Where To Dive With Whale Sharks In Thailand?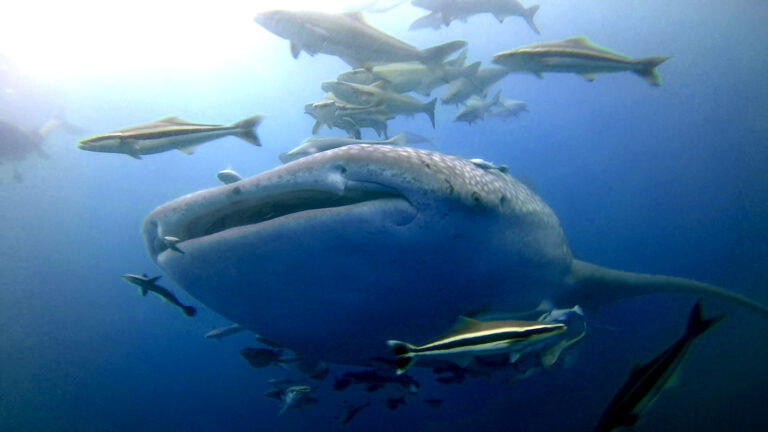 After diving in Thailand for more than 20 years and with information from our diving staff, each of whom have also been diving Thailand for many years, we can surely say that when and where to dive with whale sharks in Thailand is not so easy to predict.

However, with so many combined years of experience and the luck to encounter whale sharks on numerous occasions at various dive sites, we're happy to share our personal and combined knowledge, in hope of increasing your chances to dive with whale sharks in Thailand.
Richelieu Rock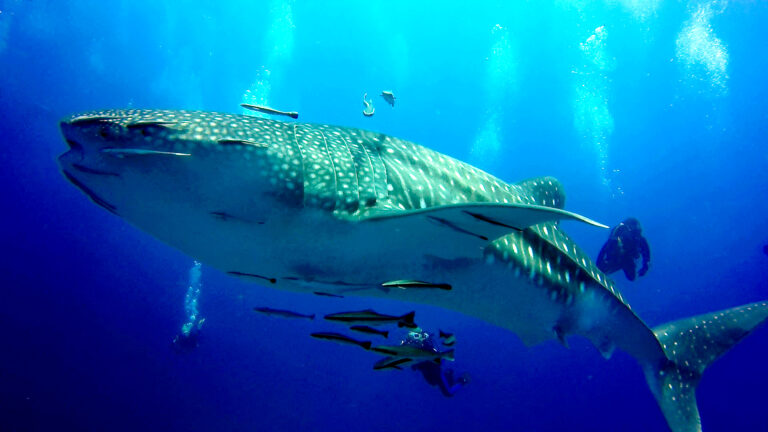 Undoubtedly, whenever anyone asks "Where to dive with whale sharks in Thailand?", the first place that comes to mind is Richelieu Rock, on Thailand's west coast.

This world-famous dive site must have the best record for whale shark sightings in Thailand! And even without whale sharks, this soft-coral crescent-moon shaped pinnacle can be an amazing dive from one of Thailand's liveaboards.

Personally, I don't dive on Thailand liveaboards much anymore: Working as a PADI Instructor, I get to see plenty of marine life on Phuket diving tours. In fact, I've only been on 2 Thailand liveaboard trips in recent years. The last liveaboard trip was only to the Similan Islands and Koh Bon, where we saw a manta ray! But the liveaboard trip before that, we went up to Koh Tachai and Richelieu Rock, and there we dove with whale sharks: We actually saw 3 different whale sharks at the same time, on multiple dives, at Richelieu Rock!
Koh Tachai Pinnacle
Perhaps one of the most underrated dive sites on the west coast of Thailand, and certainly less frequently dived than Richelieu Rock, is the pinnacle on the south-east of Koh Tachai. For me, this is 2nd place that comes to mind when hoping to dive with whale sharks.

Koh Tachai Pinnacle (actually 1 larger and 1 smaller pinnacle) is a big boulder dive site that is usually dived on the way to Richelieu Rock, when coming from Koh Bon and the Similan Islands. Although I've more frequently seen manta ray here, it's got to be one of the best dive sites in Thailand for whale sharks and, like Richelieu Rock, can be an amazing dive even without the really big stuff, as there's often other 'almost as big' stuff to see!
Koh Bon & The Similan Isles
If you are heading up to Koh Tachai and Richelieu Rock on a liveaboard, then you are likely also diving at Koh Bon and some of the Islands in the Similans. Diving any of these sites provides more chances of seeing a whale shark: the pinnacle and ridges at Kon Bon; Elephant Head Rock and Christmas Point etc., in the Similan Islands.

Elephant Head Rock is a huge dive site of big boulders, awesome swim-throughs and a strong potential for whitetip sharks, spotted eagle rays, marble rays… and the occasional whale shark. You'll want to go deep on this dive site, even deeper if you want lots of soft-coral and the marble rays, but don't forget to look up as you ascend around the massive rock structures… just in case there's a whale shark.
Diving From Phuket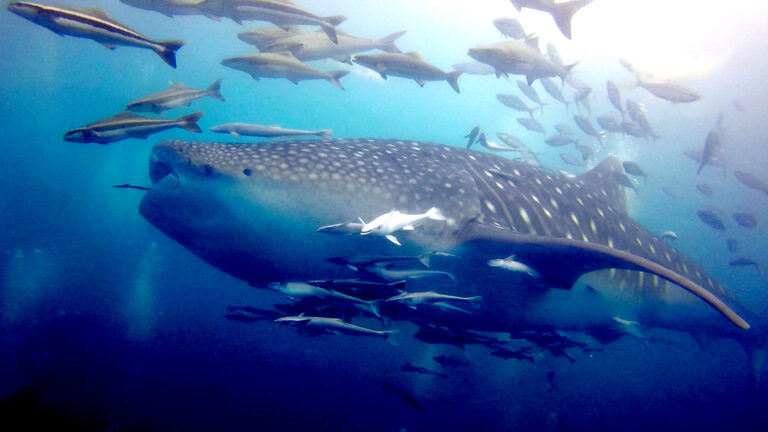 If you want to dive with whale sharks in Thailand, the diving from Phuket has to be high on the list. In particular, the dive sites of The King Cruiser Wreck, Koh Doc Mai, Shark Point and Anemone Reef, are all equal choices when it comes to the chance of seeing a whale shark: Yes, we've been very lucky to see whale sharks at all of these Phuket dive sites on more than a few occasions!

And the fact that you can book a 3 dive trip, which includes 3 of these sites on the same day, where you dive a wreck, soft-coral pinnacles and a wall, not only increases the chance of a whale shark, but usually means a fabulous day of diving, especially when the conditions are good!
The Phi Phi Islands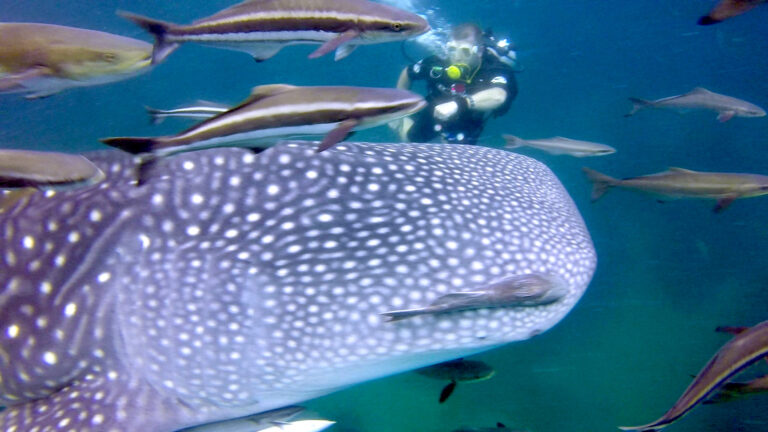 Just like diving from Phuket, there are many dive sites around the Phi Phi Islands that are not only marine life rich, but are also high on the list for whale sharks in Thailand. Our strong favourite and best pick would have to be Koh Bida Nok, the southern most of the Phi Phi island group, followed by the nearby Koh Bida Nai and Hin Bida (which is a little more off to the east).

We've had a lot of luck diving with whale sharks at the 'Bidas', and also the western side of Koh Phi Phi Ley which has had it's fair share too, especially at the dive sites of Turtle Rock, Palong Wall and north of Mushroom Rock. But with so many dive sites around the Phi Phi Islands, I'm sure there are many more sightings of whale sharks.

By the way, Koh Bida Nok is our go-to place, when we want to dive with sharks (blacktips) on day trips diving from Phuket.
The Racha Islands
On a daily average, the Racha Islands provide the easiest dives and best visibility when diving from Phuket. At these islands, perhaps the best dive site for the 'big stuff' would be South Tip on Racha Noi. Although South Tip is usually the hot favourite for manta ray, whale sharks do visit there from time to time, and we've certainly seen whale sharks travelling down either side of Racha Noi, on the way towards South Tip.

However, in our experience there have been more sightings of whale sharks on the north-east side of Racha Yai (Ao Lah / Bay 1), but that may just be because this is one of the most heavily dived spots, close to Phuket – and it does seem that whale sharks like to visit the dive sites too!
Sail Rock & Nearby Pinnacles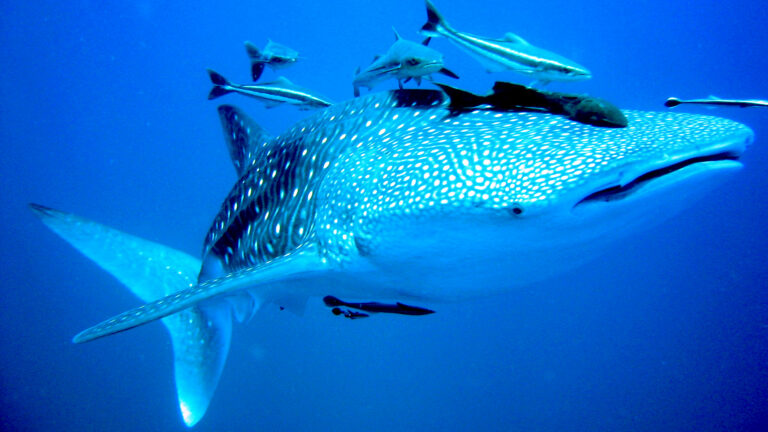 On the east coast of Thailand, and perhaps 3rd on the list of where to dive with whale sharks in Thailand, are the dive sites of Sail Rock, Southwest Pinnacle and Samran Pinnacle. Situated between Koh Phangan and Koh Tao, these are some of the best sites to dive in the Gulf Of Thailand, with or without whale sharks!

Sail Rock has likely had the most frequent whale shark sightings in that area but, similarly to the west coast's Racha Yai, that may be due to it being more frequently dived than the other 2 pinnacles because it's more accessible to various levels of divers.
Chumporn Pinnacle
Chumporn Pinnacle, just to the north-west of Koh Tao, is also high on the list of sites to dive with whale sharks. This big pinnacle, around 18m at it's shallowest, is a great dive site for advanced divers and has had many whale shark sightings.

Back in the 'old days', Chumporn Pinnacle was a hot-spot for seeing many types of shark: blacktips, silvertips and bull sharks just to name a few. But nowadays, sightings of these other sharks is much rarer and you are perhaps more likely to see a whale shark.
Koh Tao's Other Sites
Just like Phuket, Koh Tao has a bunch of dive sites where it's quite possible to see whale sharks. Koh Tao may not be best place in Thailand to dive – there's no question that the Indian Ocean has more marine diversity that the South China Sea – but it may top the list for most frequent sightings of whale sharks in Thailand. Perhaps this is because so many beginners go to Koh Tao to learn diving and therefore so many divers actually get to see a whale shark.

Apart from Chumporn Pinnacle, Sail Rock, Southwest Pinnacle etc., one other dive site near / around Koh Tao that offers a good chance to see a whale shark is the aptly named Shark Island. Similarly to Chumporn Pinnacle, Shark Island also used to be a good dive for other types of shark, but sadly this again is no longer the case.
Koh Lipe's Dive Sites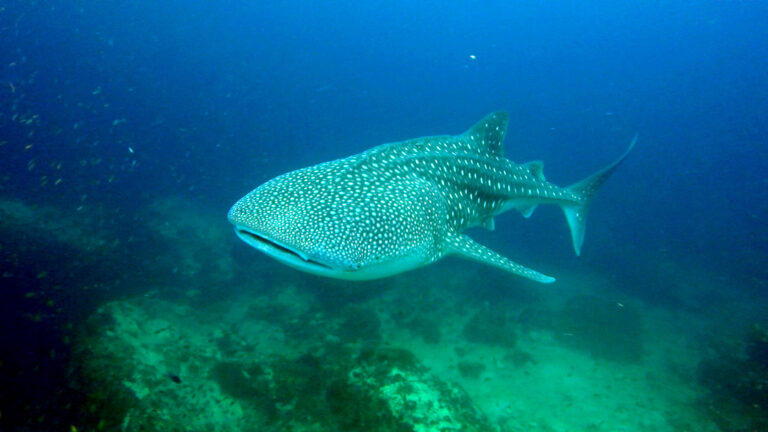 Koh Lipe, down south in the Tarutao National Park, is also a great place to dive with whale sharks in Thailand. Close to it's main islands, there are many colourful soft-coral dive sites for excellent macro marine life. But travelling a little further out to dive sites like Stonehenge and 8-Mile Rock may very well result in seeing some bigger marine life!

My favourite dive site is 8-Mile Rock. This dive site is similar to Koh Bon Pinnacle (near the Similan islands) but much bigger and, in my experience, has more fish, including massive groupers and yes… I've seen a whale shark here too!
When To Dive With Whale Sharks In Thailand?
"When to dive with whale sharks in Thailand?" is an easier question to answer: anytime! Honestly, it's just a matter of luck: being in the right place at the right time!

So our best advice is check the local weather forecast, check the local tide tables for the currents (usually bigger marine life likes at least some current), make sure the conditions and the dive sites are within your certification, experience and comfort levels, and go diving at some of the dive sites listed above… and keep your fingers crossed of course!

If you choose to take our advice, you should at least have a great day of diving and see some cool critters, and if you are very, very lucky, you may get to dive with a whale shark. Although. as we are all aware, these amazing creatures get rarer every year, so please support shark conservation in anyway you can.
Whale Shark Season?
We are aware that there are many divers who believe there are particular seasons / times of the year to dive with whale sharks in Thailand. But from many years diving, on both the east and west coasts of Thailand, and having dived with whale sharks during every month of the year – yes, we've been very lucky – we don't believe that there is a favoured season and that 'when' is a little more complicated than just looking at a calendar!

We believe that the idea of a best time to dive with whale sharks in Thailand comes from the seasonal changes of when divers choose to dive in particular areas, i.e., when there are more divers diving certain sites more often, then there's a greater chance of some of them seeing a whale shark: more likelihood of divers being in the right place, at right time!
Gulf Of Thailand (Koh Tao etc.)
For instance, on the east coast (The Gulf of Thailand) there's a notion that March to June is the right season. These months often also correlate to hot / good weather, which of course would be when more divers are likely to take trips to more of the sites where sightings of whale sharks are possible… right place, right time? And if the months of March to June are suggested as the right season, there's often an addendum that whale sharks could show up at anytime, not just those months! Hence, our belief that it's more about the times of year when more divers are diving those sites.
Indian Ocean (Phuket etc.)
Similarly on the west coast of Thailand (The Indian Ocean), November to April are considered to be the best months for diving with whale sharks. And these months correlate to when the Similan Islands are open and many more divers come for liveaboard diving trips. So, is this simply more divers in the right place at the right time again? And actually there's some great diving at Phuket's local dive sites all year round, and so sometimes we also get to dive with whale sharks during the months of May to October!
Bigger Influences On Whale Sharks
Whale sharks are an endangered species and their populations decline year after year. This is due to a number of factors including: targeted fishing and by-catch, being hit and killed by boats, and maturing late (although they can give birth to 100's of pups, the pups rarely survive until maturity – breeding age). So an encounter with a whale shark is a very rare special thing!

We believe that a bigger influence on when to dive with whale sharks in Thailand comes from changes in the deeper oceans and the effect that global currents (sometimes referred to as 'the global conveyor belt') have on more localized conditions. For example, there's a cycle of warm water 'El Niño' and cold water 'La Niña' that usually occur every 3 – 5 years. Although the cycles can extend for longer periods, El Niño usually lasts 9 – 12 months, whereas La Niña usually last 1 – 2 years.

Whale sharks feed on zooplankton and phytoplankton (krill / shrimp, small invertebrates and algae etc.) The upwelling from the deeper oceans along with the cycles / mixtures of cold and warm sea water all have an effect of the abundance of the whale shark's food. Therefore it's not hard to imagine whale sharks migrating the oceans and travelling around the seas in-sync with the changing cycles.

We have certainly noticed that there are many more zebra sharks around the dive sites when the cold water cycles are here (blacktip reef sharks are around certain sites almost all the time). As for the whale sharks, they are more likely to be seen at certain dive sites in Thailand as they pass through during migration. But exactly when that is, is anyone's guess… so just go diving, enjoy, and keep your fingers crossed!
Dive With Whale Sharks In Thailand?
Thailand offers some of the best diving in the world and on occasion that means you'll get to dive with a whale shark. But don't book a dive expecting to see one: Avoid disappointment by diving to enjoying all the other marine life that Thailand's variety of sites have, and then if you are lucky enough to see a whale shark, it's a huge bonus.

But if you do get to dive with whale sharks in Thailand, remember a few rules:
Liveaboard Diving For Whale Sharks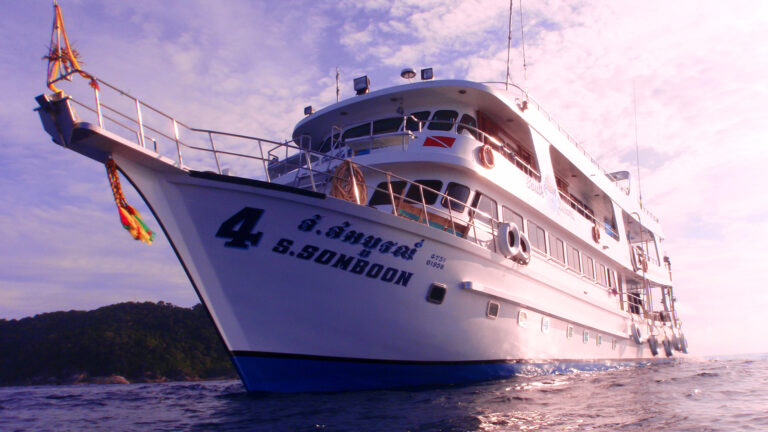 Liveaboard diving starts from 2 Days / 1 Night and up to 4 Days 4 Nights, with departures everyday: Explore the far away dive sites of the Similan Islands, Koh Bon (well known for manta rays), Koh Tachai & Richelieu Rock (well known for whale sharks).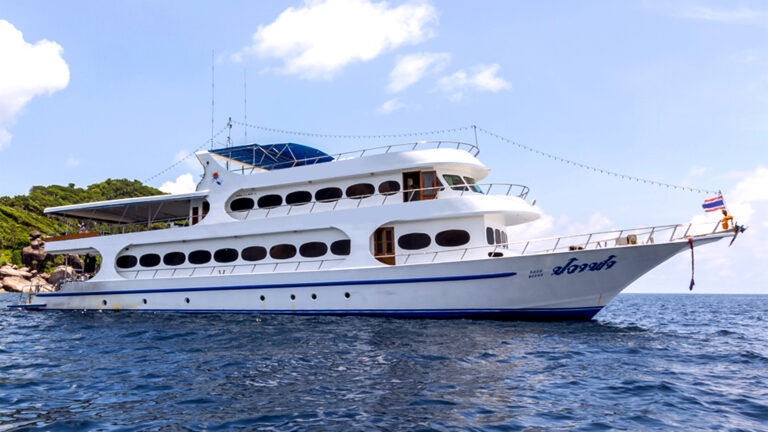 Liveaboards, for diving the Similan Islands and beyond, usually run from the end of October through to beginning of May. Livaboards are very popular and perhaps offer the best chance to dive with whale sharks in Thailand, so book well in advance!