PADI Discover Scuba Diving
Scuba Diving For Beginners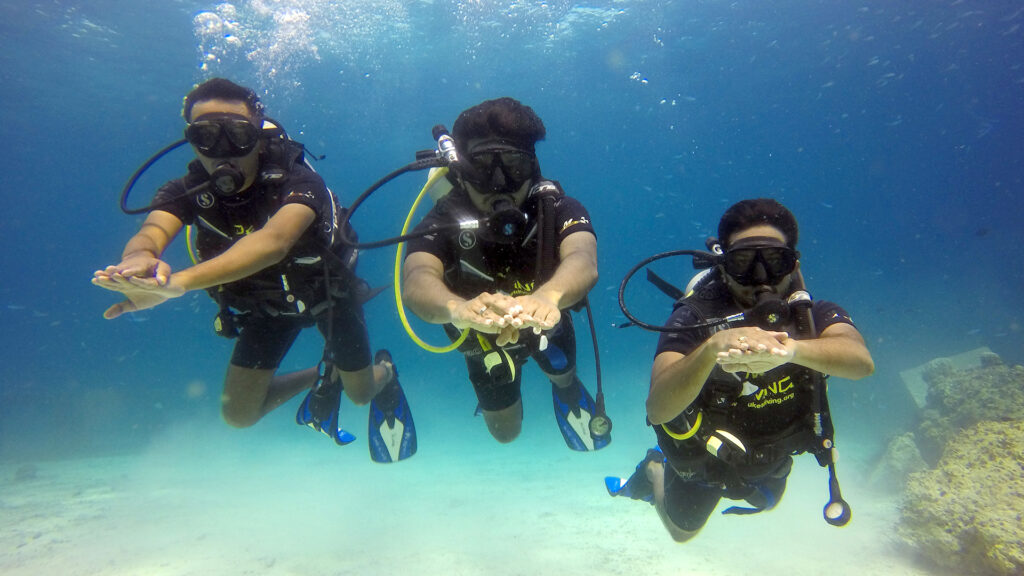 PADI Discover Scuba Diving is an experience program that gets you scuba diving safely, with the least amount of effort or commitment, and the maximum amount of fun!

With a short training session and shallow water skills practice, you can learn to dive and be exploring Phuket's reefs in no time… Though you may opt for an even more adventurous 3 dive day trip from Phuket!

Our PADI Discover Scuba Diving starts at only 2,500b.
PADI Discover Scuba Diving Phuket
No need to spend valuable holiday time with pool training. You can learn to dive in clear, calm, shallow water and then go scuba diving to 12m, all in a few hours on Phuket's beach reefs or a day trip boat to Phuket's other diving destinations.

Phuket's beach reefs and the nearby Islands of Racha Yai, Racha Noi and Koh Phi Phi offer an amazing experience for first time divers taking the PADI Discover Scuba Diving program.

Beautiful corals and a wide variety of sea-life can be enjoyed, in comfortable conditions, under the supervision of our professional PADI Instructors. Better yet, your dives can count towards a PADI certification!
Go Discover Scuba Diving Phuket! It will be one of the best days of your holiday.
Discover Scuba Diving Made Easy
You don't need to take to a certification course to dive. Scuba diving is very safe and easy, with the right training: Breathe, equalize air spaces and go see fish! Well, it's almost as easy as that. For extra comfort and to be able to dive down to a maximum of 12m, there are just a few basic skills to complete.

Even if you are very nervous, there's no rush to do the skills. You can practice diving in very shallow water, still seeing fish and corals, before trying skills that enable you to go a bit deeper. Either way, you can be underwater and having a fabulous time!

Our instructors are patient and flexible in their approaches to help you dive.
Have fun learning to dive safely with our super-experienced PADI Instructors.
Not Just For Discover Scuba
Discover Love Diving's Difference
No matter if you can swim or not, we love to get you diving!

Sure, we'll be right by your side and may hold onto you as and when necessary… but that doesn't mean just dragging you around underwater! We want you to enjoy the weightlessness and freedom of being underwater – it's quite special! And even with the PADI Discover Scuba Diving experience, we want you to feel like divers… even if you can't swim.
PADI Discover Scuba Diving Skills
Depending on your ability and comfort level, there are other approaches to help you dive. But here's an example of skills practice that our PADI Instructors will take you through on a typical Discover Scuba Diving experience (the 'in-water' part):
Then you're all set for an awesome 12m dive with our instructor!
Discover Scuba Diving Rules
PADI Discover Scuba Diving requirements include:
Other things to know:
After Discover Scuba Diving
PADI Discover Scuba Diving is a great way to see if you like being under water without the need to commit to a full course, but it can count towards the PADI Open Water Certification, saving both time and money!

Don't want the full certification? No worries… you can repeat PADI Discover Scuba Diving as often as you like! It usually gets easier each time and you may be able to dive at more adventurous sites for more amazing experiences!