Learn Diver Rescue In Phuket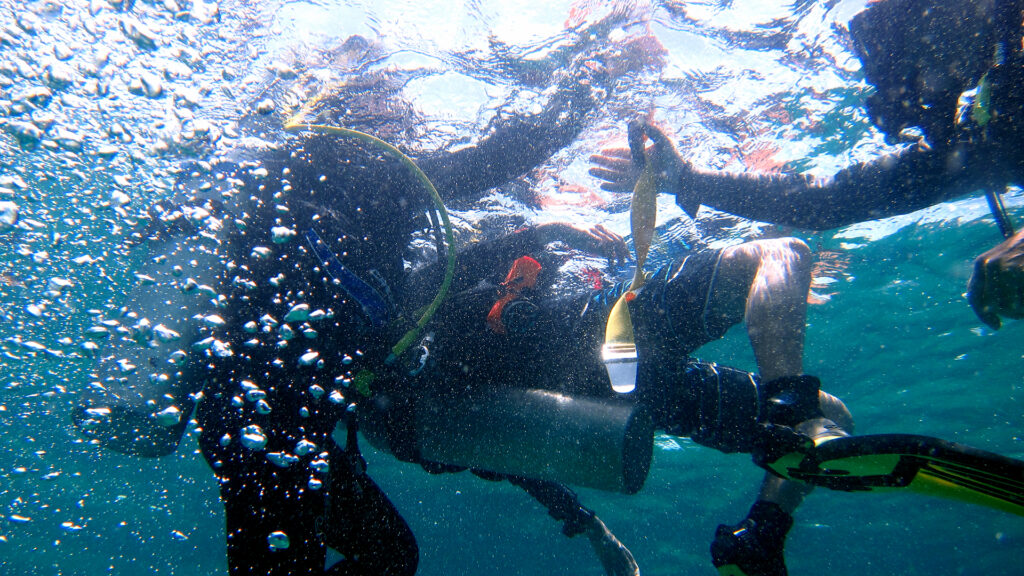 The PADI Rescue Diver Course teaches you the knowledge and techniques necessary to help a diver who's in distress or unresponsive, either at the surface or underwater.

You can become a PADI Rescue diver in just 2 days, with some self-study, in-water skills training and diver rescue scenarios. (A current EFR certification is also required.)

Our PADI Rescue Diver Course is only 10,900b.
Why Be A PADI Rescue Diver?
Aside from being able to help or rescue a diver, there are more advantages to completing the PADI Rescue Diver Course. For example:
Being a PADI Rescue Diver: Certainly it's a real 'feel good' achieving this challenging but fun certification. But more than that, you will come away being more aware of potential diver problems and more capable of dealing with them. And if you dive with family or friends at more remote locations, or do local dives without professional support, then we believe being a rescue diver is a must!
PADI Rescue Diver can be a challenging course – we make achieving it fun!
PADI Rescue Diver Course Phuket
Phuket caters for scuba divers from all round the world and therefore has excellent diving services including big comfortable boats, with on-board oxygen systems, medical supplies, floatation aids and other materials required for diver rescue.

Luckily, or perhaps due to a high standard of instructors and diver training in Phuket, diver rescue facilities, materials and aids are rarely used, due to Phuket having very few diver emergencies. But it's nice to know that everything is at hand, either for real or training purposes.

But what better place than Phuket to do your PADI Rescue Diver Course, when there are such good supporting services.

And our super-experienced PADI Instructors will do a great job in passing on to you the all the skills required to assist a distressed or unresponsive diver.
Become a Rescue Diver in Phuket – then take those skills away with you.
PADI Rescue Diver Training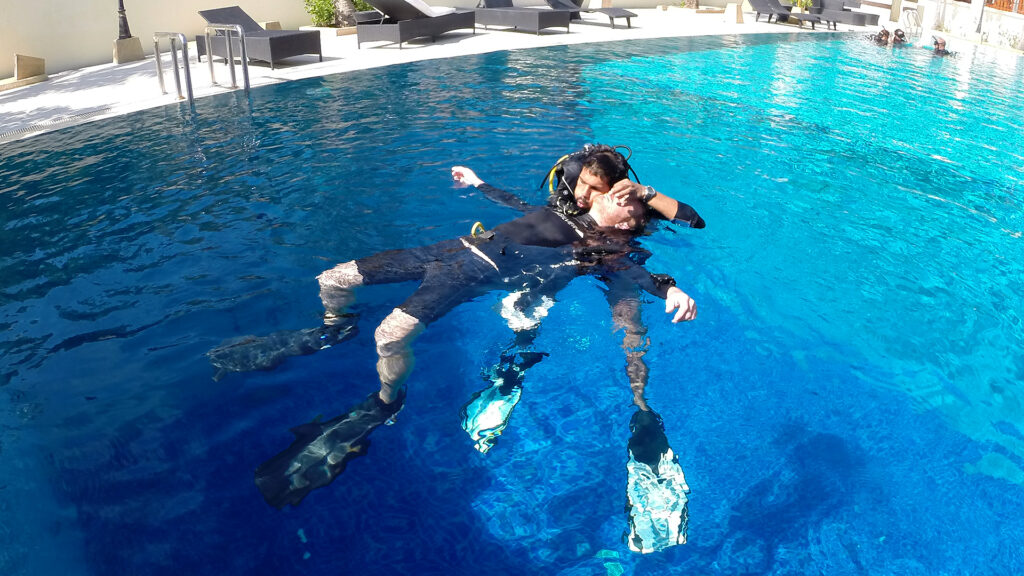 Rescue Diver Skills
There are 10 sets of skills to cover during the initial training. All but one of these sets (a self-rescue skills recap) must be done in a real environment (the sea).

We often cover this initial skill development at Paradise Beach, however sometimes it's easier to learn the skills at a pool, before recapping in the sea, either off the beach or diving from a boat.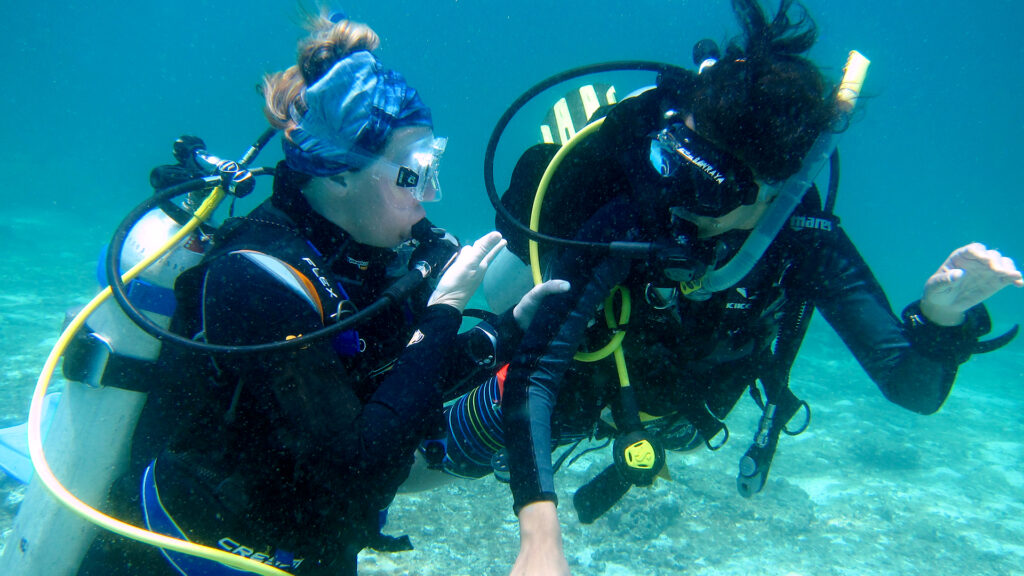 Rescue Diver Scenarios
There are 2 main diver emergency / rescue scenarios, where you put together all the skills you've learned: To find and bring to the surface an unresponsive diver, and to rescue an unresponsive diver at the surface.

The scenarios are supposed to be as real as possible, so expect some element of stress (as in a real rescue) but this is more fun than it sounds! Continue reading for more course details…
Beyond Being A Rescue Diver
Although you can do Tec 40 as a PADI Advanced Diver, PADI Rescue Diver is required for the PADI Tec 45 & Tec 50 levels. Similarly, PADI Rescue Diver is a requirement before starting the PADI Divemaster Course.

But if you've logged 50 dives, have 5 PADI Specialties and then do your PADI Rescue Diver Course, we'll certify you as a PADI Master Scuba Diver for free!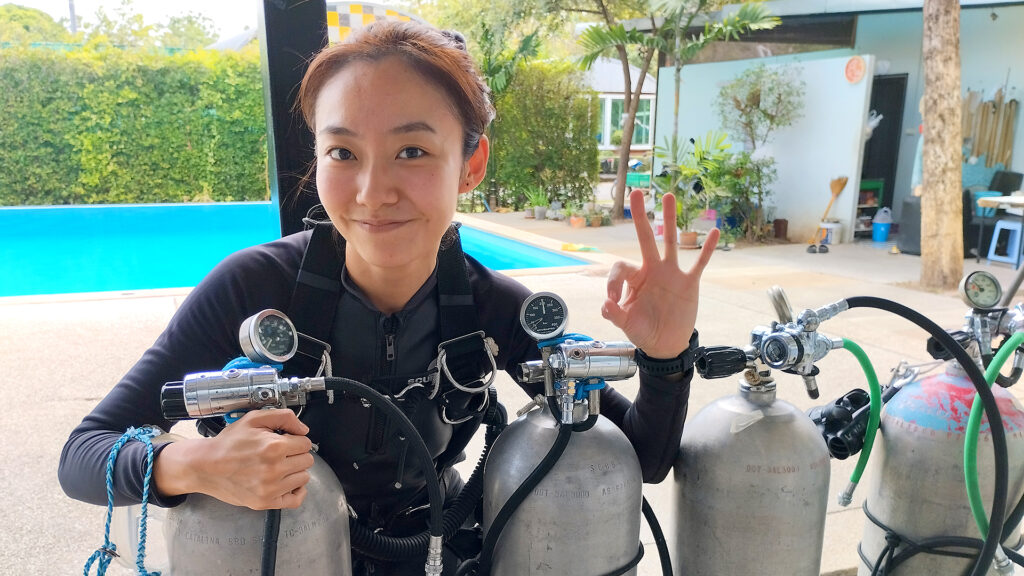 Love Diving's Rescue Course
Some may not enjoy teaching rescue courses… but we love it!

The PADI Rescue Diver Course is perhaps one of the more involved courses and is supposed to feel as 'real' as possible, and therefore may include an element of stress! But don't worry, we feel laying a solid foundation with the core rescue skills will thoroughly prepare you for the rescue scenarios and also put you in the right frame of mind.

This may even mean to learn skill basics in water deep enough to walk around before repeating the skills deeper: Meaning you can concentrate on a skills key elements, before adding stress from any extra physical exertion.
Studying for the PADI Rescue Diver Course is easy to do beforehand, with printed materials that we supply. Or you can do it online in advance: click here for e-learning.
PADI Rescue Diver Course Guide
Here is a guide to the training on a typical PADI Diver Diver Course:
Take a look at our EFR Course, as it's a requirement for the Rescue certification.
Enjoy the self-assurance you feel as a PADI Rescue Diver.
PADI Rescue Diver Course Rules
PADI Rescue Diver Course requirements include:
Other things to know:
After The Rescue Diver Course
If becoming a PADI Divemaster was the reason for being a Rescue Diver, then you already know what to do next. If not, then we highly suggest increasing your range of dive skills and diving environments with a bunch of our PADI Specialty Courses.

Even if you aren't after a Master Scuba Diver certification card, PADI Specialty certifications are highly desirable… either because they can arm you with a whole bunch of new (or improved) diving activities and techniques, or perhaps taking you to new or special places where very few dive.