Contact Love Diving Phuket
Thanks for your enquiry!
We really appreciate your contact and we'll get back to you at the nearest opportunity.
Love Diving Phuket in Patong.
Our dive center in Bangla Road, Patong is situated just to the right, on the ground floor of the Illusion Phuket complex, which is opposite the Tiger Night Club. Open every day 12:00 – 20:00.

Please note: Bangla Road is a walk-in only street from 6pm on, so please don't leave your motorcycle parked there, otherwise it'll get locked up.
Love Diving Phuket at Paradise Beach.
Our dive center on Paradise Beach is about a 10 minute taxi or bike ride from Patong. Open on selected days 10:00 – 17:00.

Paradise Beach is well worth the visit, but it's a private beach and there's a 200b entrance fee. Also, food and drinks can be purchased there; please don't bring your own as you'll have to leave it at the security check-in.
About Love Diving Phuket
(not written by them)
At the heart of Love Diving
I've known Tea since moving to Phuket back in 2008, when she was working as a PADI Instructor and Dive Tour Leader. I met Edo a couple of years later, when he began working as an PADI Instructor in Phuket also… and soon after they formed Love Diving Phuket.

Because both Edo and Tea have worked as diving instructors and dive tour leaders, they have real experience of the diving industry from all angles. So of all the Phuket dive centers, I find Love Diving Phuket to be the most balanced and easy to work with… and the benefits that come from those qualities are transferred down through their team of instructors to those who dive with Love Diving Phuket.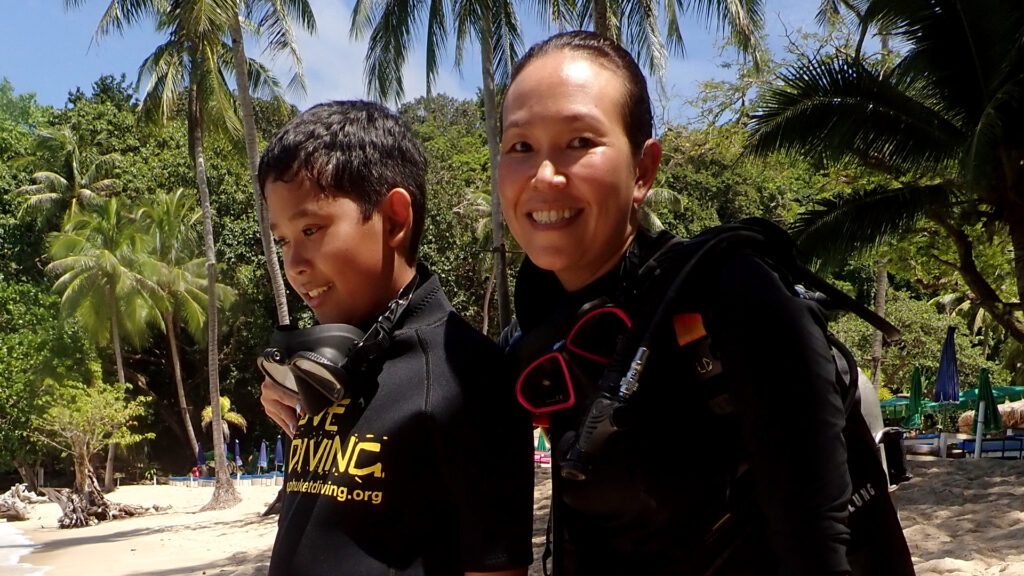 The Love Diving Family
When you dive with Love Diving Phuket, there's a real family feeling to it. They aren't just selling you a dive trip or course… you feel like you are part of the team! Maybe that's why so many divers come back to dive Phuket with them year after year. And perhaps that's also why they hold on to an awesome team of PADI instructors.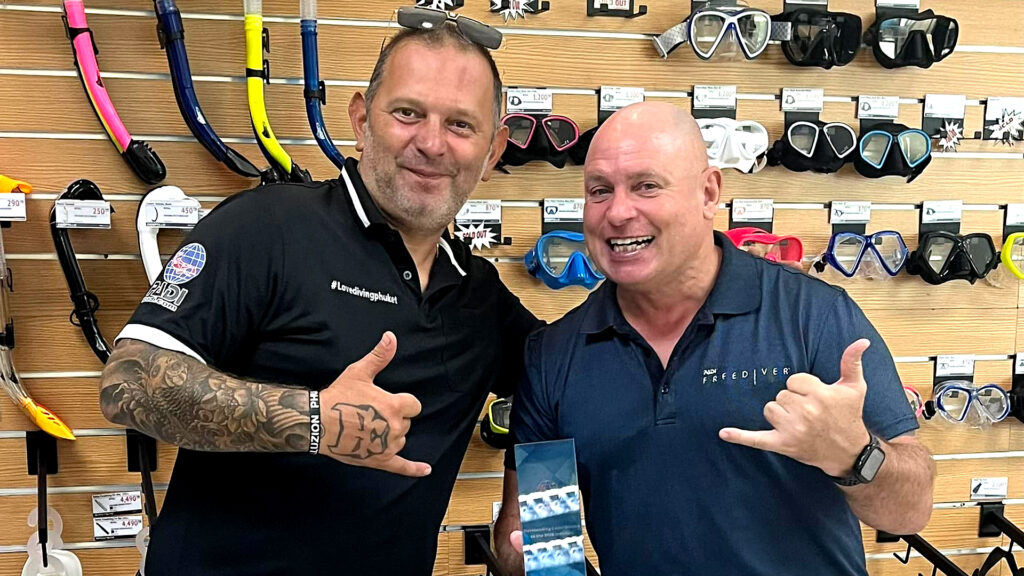 Trust Love Diving Phuket
Tea and Edo haven't forgotten that it's your holiday. Although diving obviously involves a cost, that doesn't seem to be their focus… it's about having a safe and enjoyable time underwater! A nice balance of quality and price… the best in Phuket I believe.

They are happy to work with you, to find the best diving from Phuket or the PADI courses that suit you the most, and will do their utmost to adjust schedules and dive sites when and if your plans change… with some notice of course. Honest advice – Don't leave things to the last minute! Especially when wanting to learn to scuba dive… You'll likely love it and will need a few days to get your PADI certification.

And this 'glowing review' about Love Diving Phuket isn't just my opinion… Not only do they have many 5 star reviews on Google and Trip Advisor but they've also a number of awards for "outstanding contributions to the dive industry" as well as "outstanding service".
Best choice for diving Phuket
Edo and Tea are honest hard working people, just like you. And when it comes to diving Phuket, they have your best underwater interests at heart.

So I'd thoroughly recommend getting in touch with them. I really think there's no better choice when wanting to dive in Phuket. You can trust Edo, Tea and their preferred team of PADI Instructors with your Phuket diving: See reviews from divers who agree.