Be A PADI Divemaster In Phuket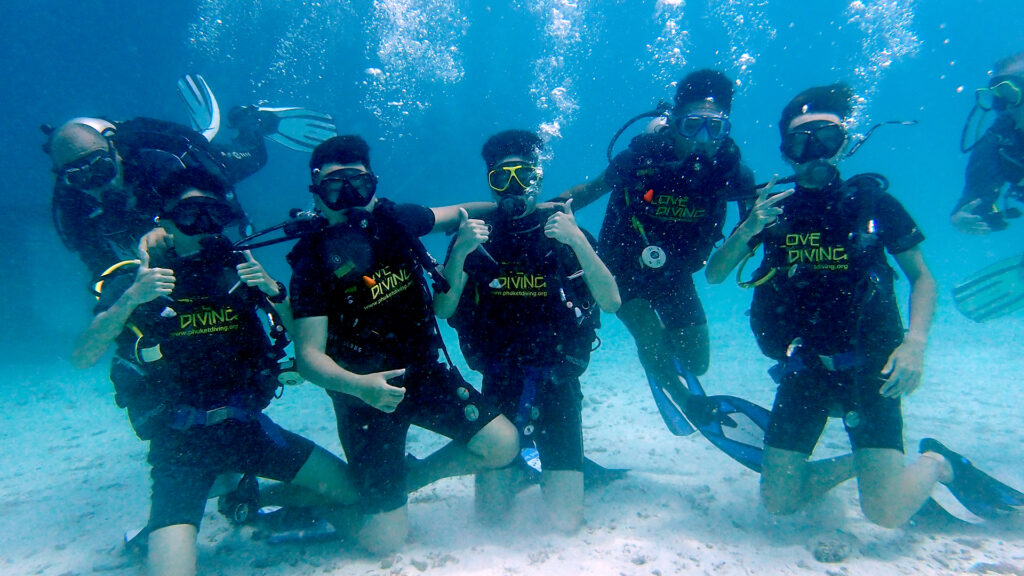 The PADI Divemaster Course is the first step towards 'living the dream' as a PADI professional and earning an income doing something you love – scuba diving! And doing your PADI Divemaster Course in Phuket with us will likely be the start of a really cool career change!

With prior self-study and the proper commitment, our fast-track PADI Divemaster Course can be completed in as little as 2 weeks! Please read on for course requirements and details.

Our fast-track PADI Divemaster Course is only 35,000b.
Why Be A PADI Divemaster?
Aside from the satisfaction of such a personal achievement there are many reasons to do your PADI Divemaster Course. Here are some examples:
Over-all, being certified as 'PADI Divemaster' means: Stepping into the professional world of diving with the largest and most popular diver training organization in the world, which brings lots of supporting benefits and access to the PADI Pros system (not just potential earning). And you should have much better diving, either because of your extended abilities or perhaps because now you are the 'professional' leading dives in new places!
PADI Divemaster Course Phuket
With a great variety of world–class diving available all year round, plus a steady stream of divers (new and experienced, from all around the world) coming to dive from Phuket on big well-fitted comfortable boats (or sometimes from Phuket's beaches), Phuket is the right place to do your PADI Divemaster Course.

But of course, with such involved and thorough training required on the PADI Divemaster Course, it's so important to have the right instructor(s) too!

So with Phuket's popularity for providing awesome diving tours and diver training, we (Love Diving Phuket) maintain an excellent team of very experienced PADI Instructors. The benefit to you is that you'll have a broader range of instruction, techniques and positive examples, through being taught by multiple Love Diving instructors.
PADI Divemaster Course – Enjoy many benefits of being a pro-level diver!
Our PADI Divemaster Training
For the PADI Divemaster Course, you can do knowledge development on-line or with printed Divemaster Crew Pack materials. However, there will still be some theory and classroom training with us at the start of your course.
For more information on the studying required, a link to the PADI e-learning, and how knowledge development fits into the rest of the training, please read on, and in particular see below for our PADI Divemaster Course Guide.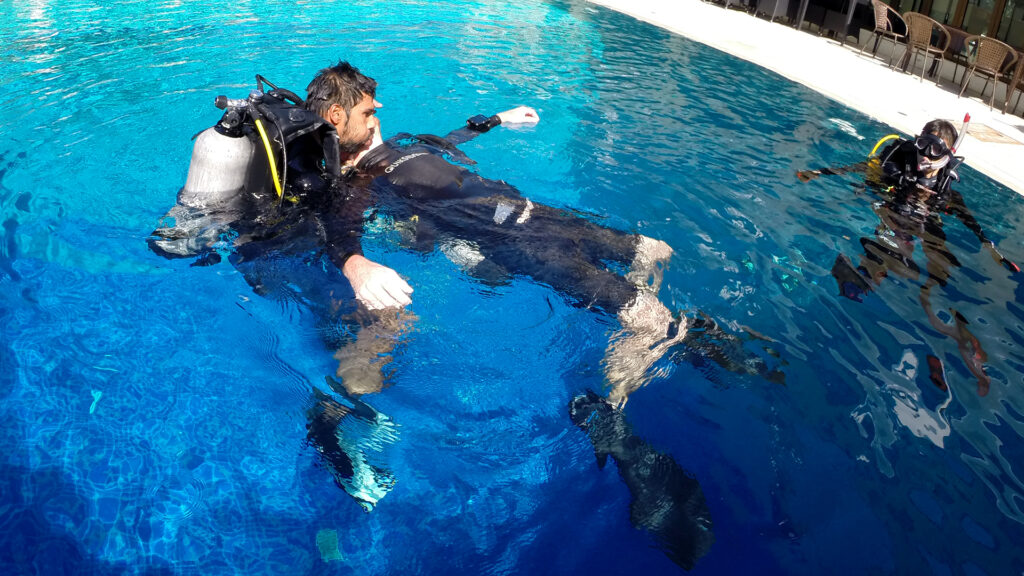 Water Skills & Workshops
There are 5 water skills for the PADI Divemaster course, some are more about diving fitness, others more to do with handling stress underwater. A passing grade comes from a combined score, though no skill must have a score of less than 1 out of 5. The water skills include timed tests for floating, swimming, snorkeling, a tired-diver-tow and a stress test.

Although you'll be involved in other pool training, prior to any in-water assisting you must complete and pass a skills demonstration circuit – 24 skills mostly from the PADI Open Water Course. A passing grade comes from a combined score, with no skill scoring lower than 3 out of 5 and at least 1 skill achieving a 5. The skills include regulator clearing, mask removal and clearing, neutral buoyancy, equipment removal and replacement, and emergency / out-of-air skills etc.

There are also some workshops, covering other PADI Divemaster duties, such as Discover Scuba, Skin Diving and a rescue skills assessment.

Don't worry, our patient and experienced instructors will give you clear goals to reach and take you through all the demonstrations, training and practice to help you complete these skills.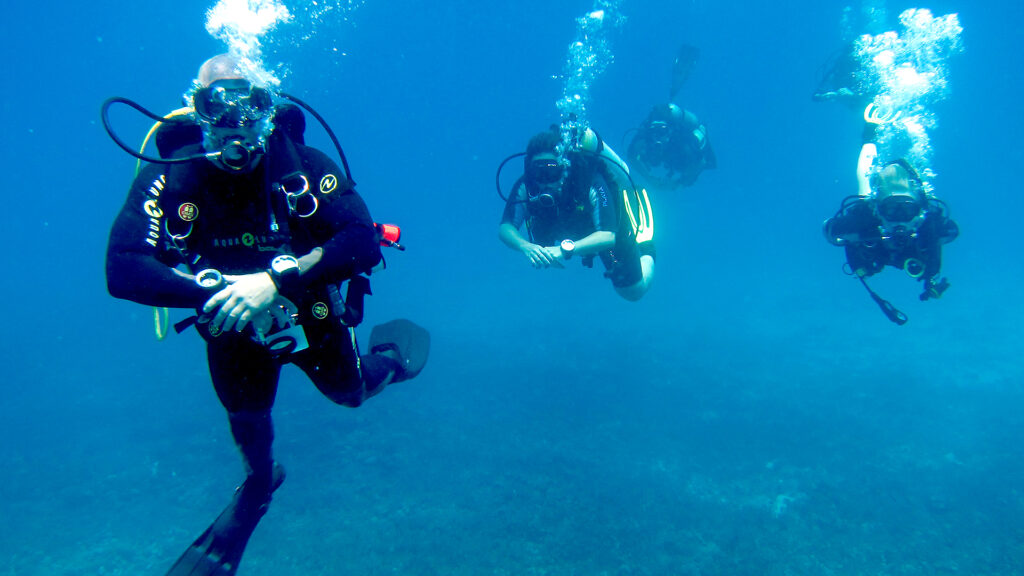 Practical Training Sessions / Dives
Some practical training sessions will occur in a pool (or similar environment) while others will be in the open water. You will be joining on PADI courses with real students / divers, or it may involve simulated courses that involve participation from other PADI Divemaster trainees / PADI professionals, who pretend to be real students / divers.

Initially, you'll be assisting with course / dive preparations and observing both instructors and students. Then as your confidence and experience grows, you'll be required to give briefings, demonstrate skills, monitor and assist students, as well as lead certified divers and take continuing education students on excursion / course dives.

Unless you are already certified for the PADI Deep, Night or Search & Recovery Specialties, then you'll also need to have training / experience dives covering each of those subjects, plus there's a mapping project too.

Basically, there is a list of practical requirements to complete over a variety of PADI courses. But don't worry, our instructors will prepare you well on what has to be achieved and how / when to best to go about meeting the each of requirements.
Specialties For Divemasters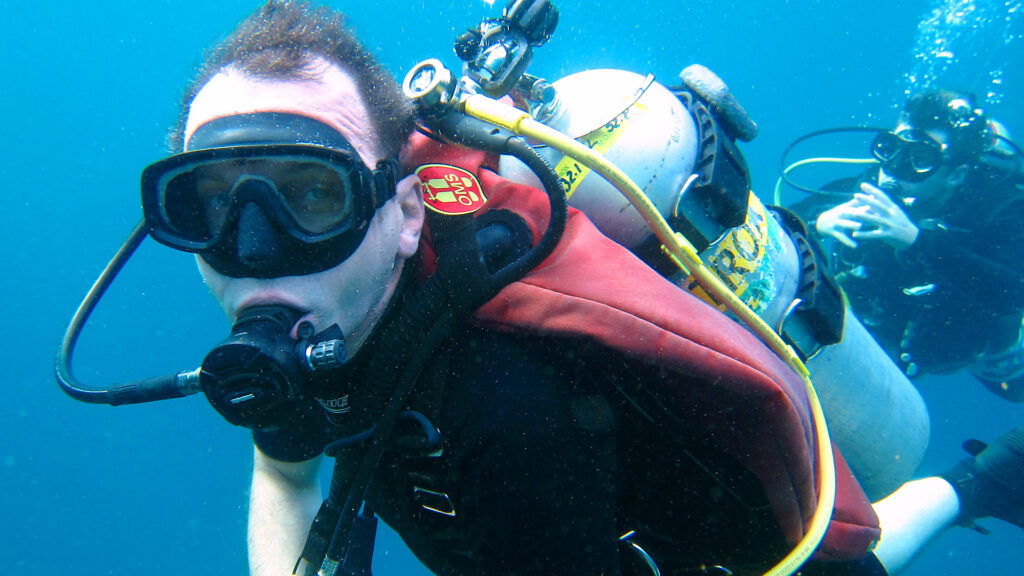 Enriched Air Nitrox
Although being Nitrox certified is neither a requirement nor a component of the PADI Divemaster Course, it's certainly a must have.

Either for guiding certified divers, or in assisting with equipment for tours and courses, you'll regularly be involved with divers using Nitrox.

You shouldn't have to limit anyone's diving experience to only using air or air profiles.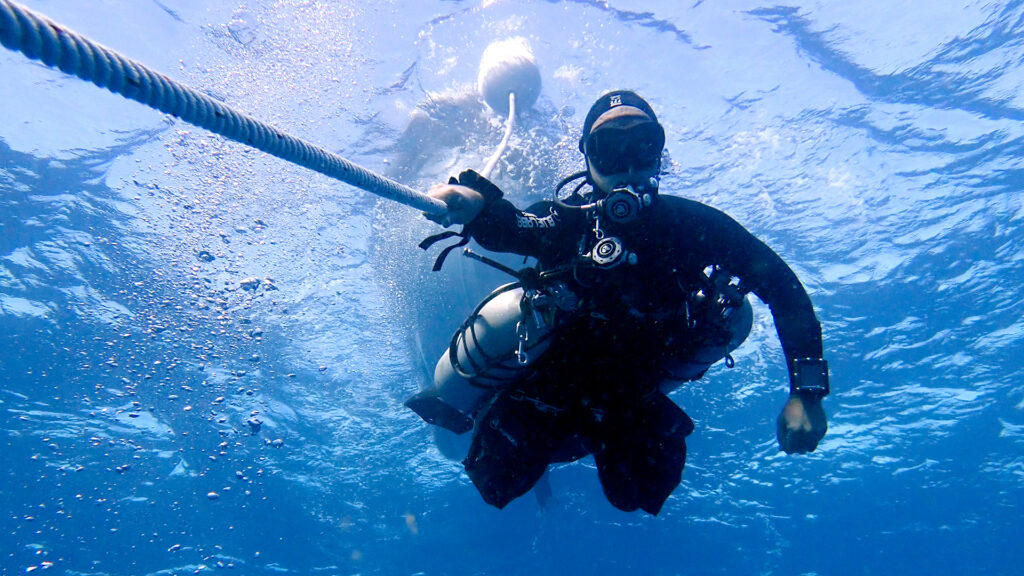 PADI Deep Diver
One component of the PADI Divemaster Course is a deep dive training experience.

Having the PADI Deep Diver Specialty rating already meets this requirement.

As a PADI Divemaster, you may well be leading dives to maximum of 40m for those divers who are similarly certified (they may even have certifications that go beyond 40m).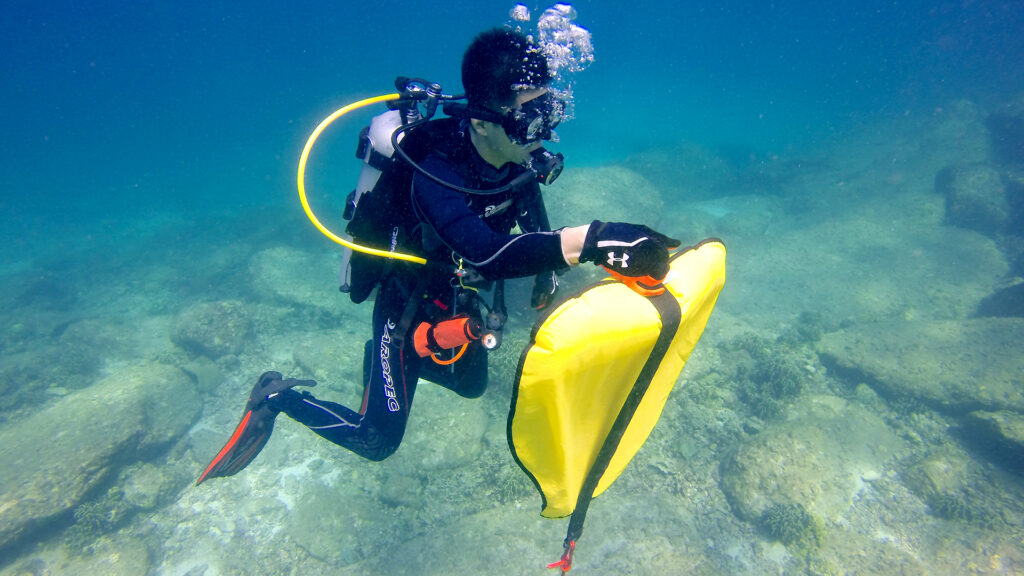 Search & Recovery
A search and recovery dive training experience is also part of the PADI Divemaster Course.

Having the PADI Search and Recovery Specialty rating already meets this requirement.

Divemaster or not, the techniques used to search in various environments / conditions and for various types of object, plus the use of a lift-bag, are very useful skills to have.
Better Prices For Divemasters
If you don't yet have 40 logged dives to start your PADI Divemaster Course, doing PADI Specialties are a great way to increase your dive count, improve diving skills, get better / more varied diving and save you dives / time on your PADI Divemaster Course.

You may even get better PADI Specialty prices if you do the Deep, Search & Recovery, and Night Diving Specialties during your Divemaster course!
Love Diving's Divemaster Course
When you do your PADI Divemaster Course with Love Diving, we assign a head-instructor to help oversee, manage and guide you through to becoming a great divemaster!

Your head-instructor will start off with classroom presentations, review your coursework and take you through the initial pool based skill demonstrations training. Multiple-choice exams may be done at various points after knowledge development.

Water skill tests are best scattered throughout the course, to allow for physical recovery and also for you to perhaps do better, due to the knowledge and techniques you gain on the way (thinking like a Divemaster).

Then you'll be joining our team of instructors on the practical training sessions / dives.

Love Diving Phuket's PADI Instructors work extremely well as a team – a good team spirit is so important! Assisting and learning from each of them will widen your perspective, give you more choice to how you approach being a divemaster, and provide a much broader knowledge base and skill set for the future – all to help you be a better Divemaster.

And after your Divemaster course, you may want to join-in on some additional courses / days of diving, to observe and perhaps even assist as a certified PADI Divemaster, for some invaluable 'work-experience' – especially if you are wanting to become a PADI Open Water Scuba Instructor and build up to the required 100 logged dives!
PADI Divemaster Course Guide
Here is a guide to the training schedule on our typical PADI Divemaster Course:
Take a look at the PADI Divemaster E-learning or ask us about current Divemaster Crew Pack prices. And please be reminded, prices for our PADI Pro courses don't include materials or certification.
PADI Divemaster: The start of an amazing life-style & career change!
PADI Divemaster Course Rules
PADI Divemaster Course requirements include:
Other things to be reminded of:
After The Divemaster Course
Becoming a PADI Divemaster should more clearly define your diving preferences and the choices ahead. Whether or not you want to continue down the PADI Pro route or venture out to the realm of PADI Tec etc., we highly suggest to take a bunch of our PADI Specialty / Tec Courses.

With the knowledge and new perspective gained on a PADI Divemaster Course, you'll get much more out of PADI Specialty Courses: In particular, an insight into how instructors teach the various specialties. Very helpful of you want to be a PADI Specialty Instructor!

Also, if you've become a PADI Open Water Instructor and already have PADI Specialties at the diver level, many PADI Specialties allow for self-certification as instructor for those corresponding specialties!

And if you want to go Tec (or both), we can do that too.