PADI Open Water Diver Course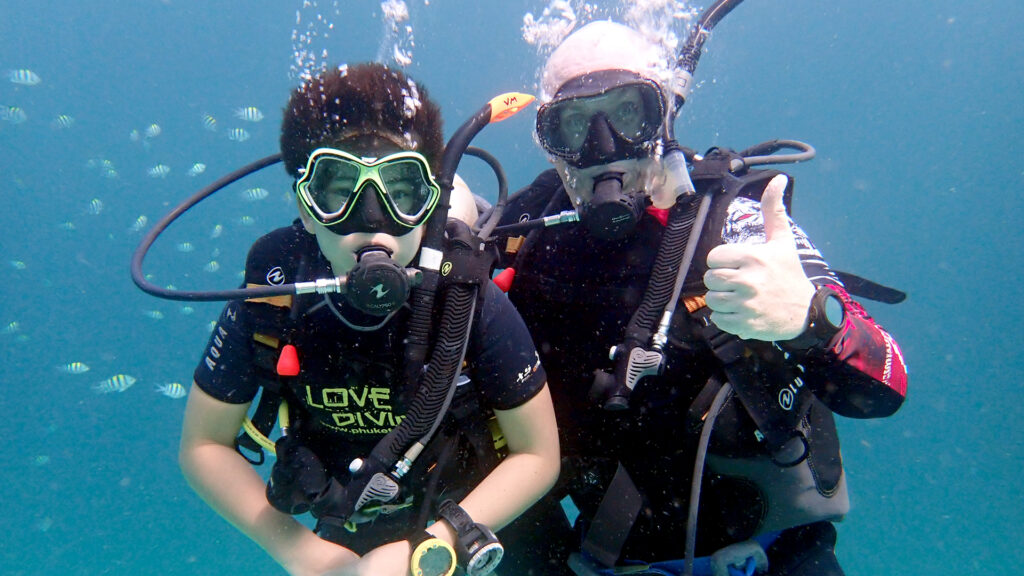 The PADI Open Water Diver Course is a certification course that allows you to dive with a buddy to 18m. It's a lifetime certification with the world's biggest diver training organization, PADI.

With just a little self-study and 3 days of diver training including class, confined water dives and a minimum of 4 open water dives, and you'll be a PADI Open Water Diver!

Our PADI Open Water Diver Course starts at only 9,900b.
Why Do Your PADI Open Water?
Sure, you can repeat Discover Scuba Diving (sometimes called Resort Dives) as often as you like, but there are plenty of advantages to doing the PADI Open Water Diver Course, especially if you want access to some of Phuket's best dive sites. For example:
Over-all, being certified to 18m means: You get better diving, with a wider range of dives, perhaps using less air (longer dives), being more comfortable underwater to take in and enjoy the marine life, plus you can dive with a only a certified buddy at sites which you are familiar.
A PADI Open Water Diver Course opens up a whole new world – underwater!
PADI Open Water Course Phuket
Phuket has a great balance of world-class diving and top-quality supporting services, so what better place to do your PADI Open Water Diver Course!

You can fly in, check in to a nice hotel, book a dive course with us, on a big comfortable boat, and be diving Phuket and the near-by islands the next day… amazing! And on Phuket's boat diving day trips, breakfast, lunch, snacks, beverages and refreshments are all included. So Phuket diving is great value for the money!

During your PADI Open Water Diver Course, there's plenty of time for diving Phuket's many varied reefs: hard corals, soft corals, boulder reefs, wrecks and more, for some fabulous sea-life! Plus even more variety with shore diving from Phuket being available most of the year.

And with Love Diving Phuket you get world-class diver training, top-quality scuba gear, insurance and great service from our professional team of experienced PADI instructors.
Learn to dive in Phuket. You won't just learn diving with us – you'll love it!
The Open Water Course Made Easy
We offer the best choices for becoming a PADI Open Water Diver. Depending on your time, budget and confidence, you actually have quite a lot of choice.
For example: You can do PADI e-learning before completing your Open Water Course in Phuket. See more examples below or click here for e-learning.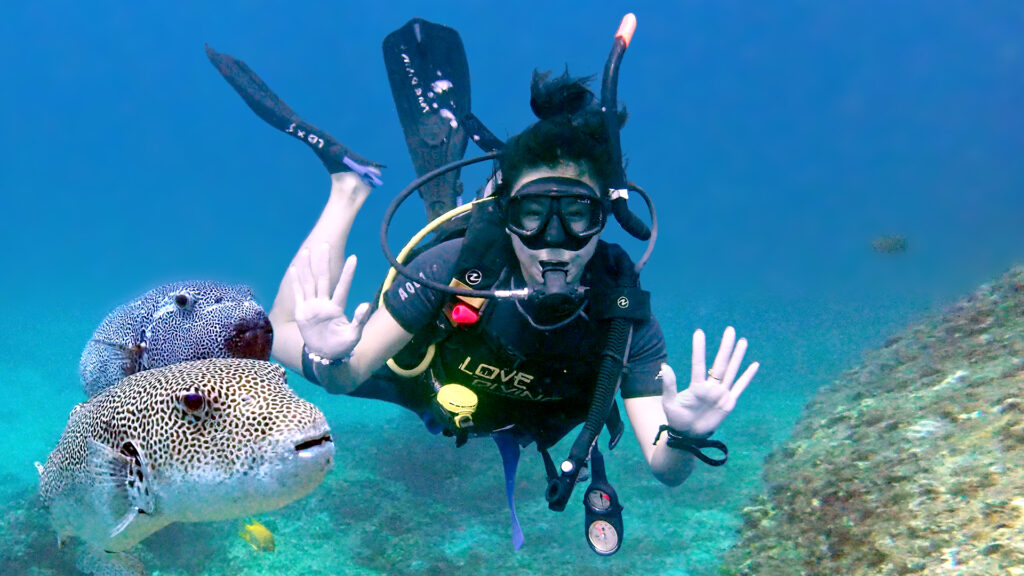 Learn To Dive First?
We frequently recommend learning to dive with a PADI Discover Scuba Diving experience, before completing the PADI Open Water Course.

With the knowledge, experience and confidence you gain after Discover Scuba Diving, then it only takes 2 more days to get your PADI Open Water Diver certification… and with us, you only pay the price difference!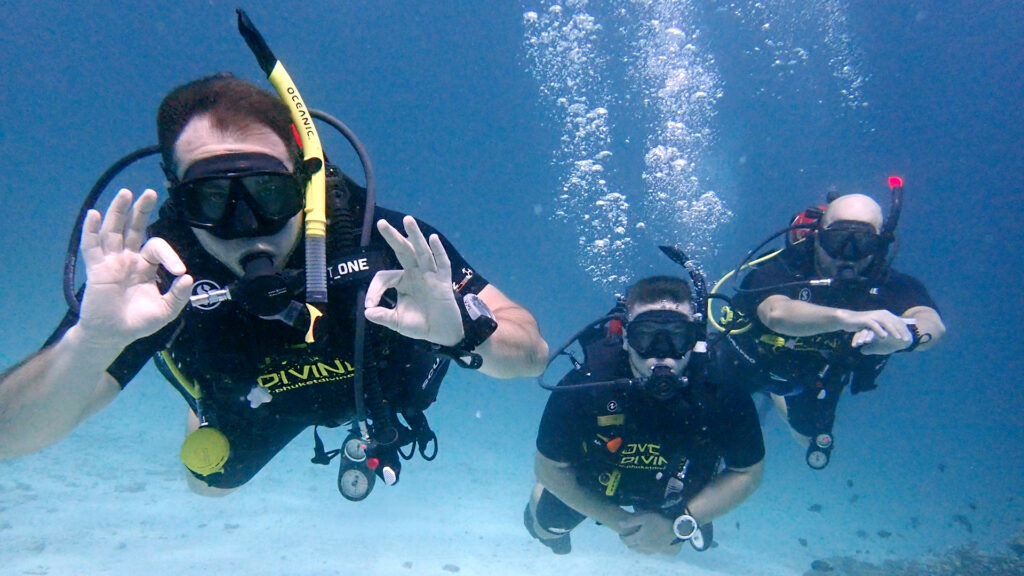 Learn At A Relaxed Pace
Although most go for our 3 day, 6 dive Open Water Diver Course (we have other choices), you don't have to do it all at once!

You're best to sign-up a little in advance to do some self-study first, but also you can take days off in-between. Perhaps a day off before your last day diving at Phi Phi, or whatever suits your holiday plans best.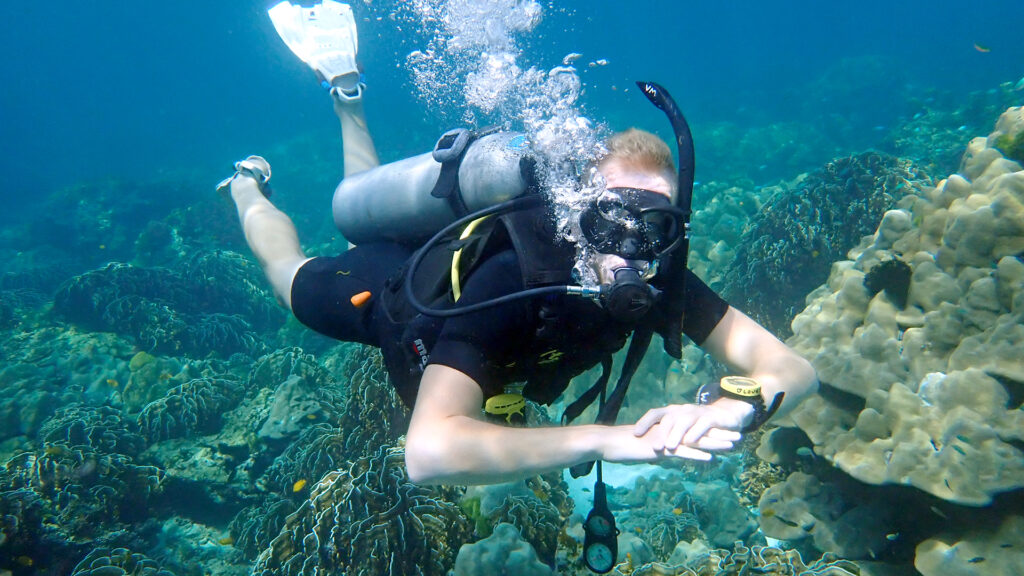 Learn To Dive In Stages
With PADI e-learning you can do all / most of the theory on-line at home, before finishing your Open Water Course in Phuket.

You can even do a 'referral', where you do some in-water training before completing certification with us in Phuket. This also works the other way, where you start learning to dive with us and finish somewhere else!
Be More Than An Open Water Diver
There are oceans of dive sites to explore, many of which you'll need more than just the Open Water Diver certification.

Extend your limit to 30m with our Open Water Diver & Advanced Diver combination course… or add the PADI Nitrox Specialty to your Open Water Diver Course… or do both!

Plus there are many PADI Specialty Courses that will further extend your limits and increase your diving skills & knowledge.

If nothing else, use your new PADI Open Water certification to dive Phuket's other great sites!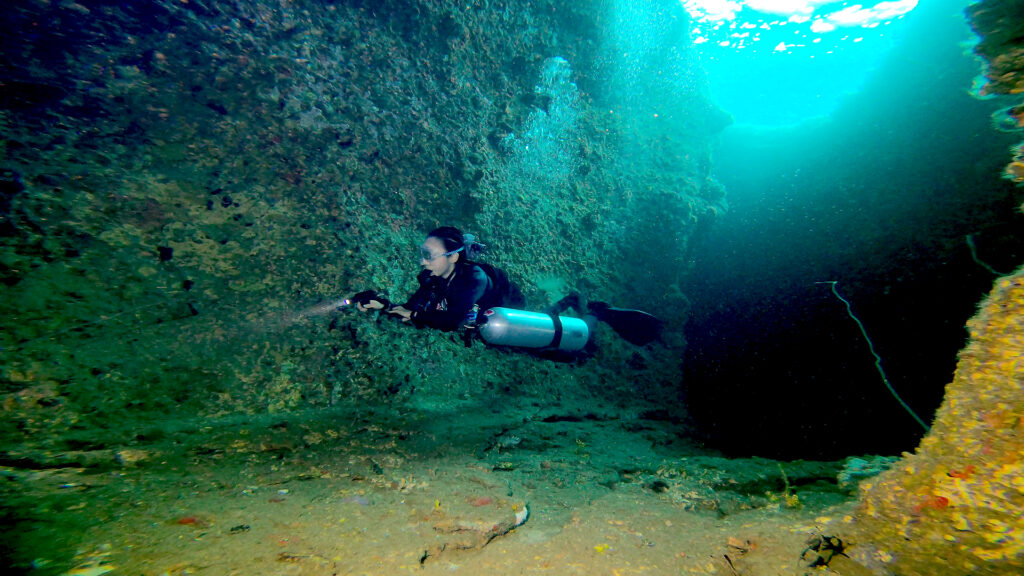 Learn With Love Diving Phuket
Don't just learn to dive… learn to dive well with us!

Our PADI instructors are patient, professional and have a wealth of experience to help you learn to dive. They are very knowledgeable of Phuket's dive sites and can adapt training and techniques to suit your learning and diving capabilities.

And usually we recommend our 6 dive Open Water Course, for the extra flexibility, practice and experience… plus it gets you diving more of Phuket's awesome dive sites!
PADI Open Water Course Guide
Although there is flexibility to scheduling and approaches for achieving diver certification, here is a guide to the training on a typical PADI Open Water Diver Course:
During the course there's lots of time to dive Phuket's beautiful reefs!
PADI Open Water Course Rules
PADI Open Water Diver Course requirements include:
Other things to know:
After Open Water Certification
You can take the PADI Advanced Open Water Diver Course straight after becoming a PADI Open Water Diver, to improve your dive skills, visit new places to dive, and extend your depth limit to 30m!

Or use your new certification to dive for fun on our Phuket diving tours: There are many dive sites to visit at the Racha Islands and the Phi Phi Islands. You could even do a Deep Adventure dive to visit the King Cruiser Wreck! (and it can count towards your Advanced Diver certification).

You can even do some PADI Specialty Courses!