Day Tour Diving From Phuket
We Love Diving From Phuket!
Many people to come to Phuket because they've heard about amazing liveaboard diving in the Similan islands, but not all realize just how good the day tour diving from Phuket is!

Yes! Book a liveaboard diving trip and we're sure you'll have great time, but please don't underestimate diving from Phuket, a few day tours maybe add up to your best diving experience!
Phuket Diving At Its Best!
Diving from Phuket on a day tour sometimes offers more abundant and diverse marine life than the liveaboards (when you do 3 dives at each of the 3 main destinations – see our Special Offer Packages on our Prices Page), plus you get to return to land for an entertaining evening and a cozy hotel room.
The 3 main day tour destinations are all a little different, with different micro-environments and therefore different creatures to see. Some sites are more suitable for advanced divers and others for beginners… And some you don't even have to be able to swim to try diving at! (See our Discover Scuba Diving prices).
Sites For Diving From Phuket
Racha Noi and Racha Yai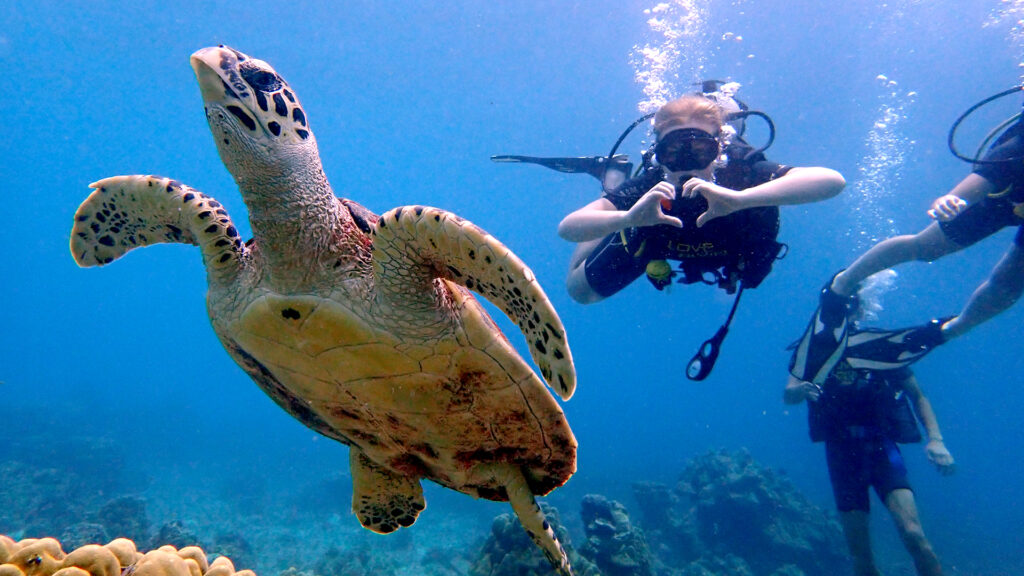 Racha Noi
Racha Noi has easy diving conditions, similar to Racha Yai, but being a bigger island has more sites to dive. The east side has a mixture of boulder reefs and hard corals, with white sands in-between and on the slopes. The west side is more rocky with slightly different hard corals but less sandy areas.

On the very south of Racha Noi is quite a special dive site called South Tip. For more advanced divers, this can be a tougher dive when currents are strong, but because of this and it's greater range of depth (10-12m to beyond recreational diving depths), it is one of the best dive sites for seeing giant Manta Rays. Contact us and we'll update you on these special trips.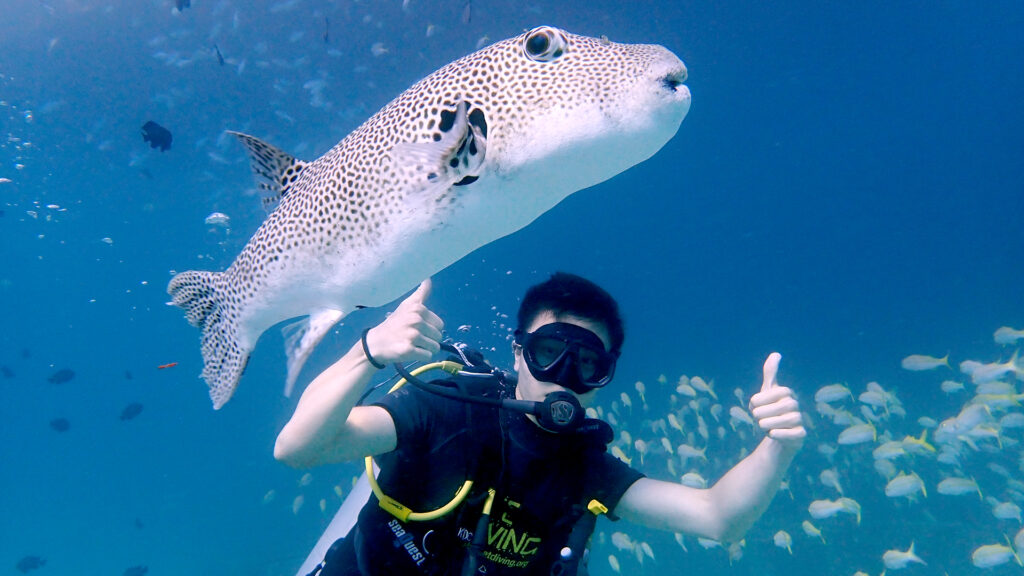 Racha Yai
Because Racha Yai is the destination most used for beginner courses, it's often overlooked for really good diving. There are very pretty hard corals up in the shallows, a bunch of easy wrecks to dive, and the artificial reef, while not pretty in itself, has some cool and rarer critters hiding in it… there's even interesting things to see in the sands! And best of all, it's multiple dive sites are usually calm, clear and easy to dive, which makes appreciateing it all much easier, both for beginner divers and even experienced divers who want something else to see.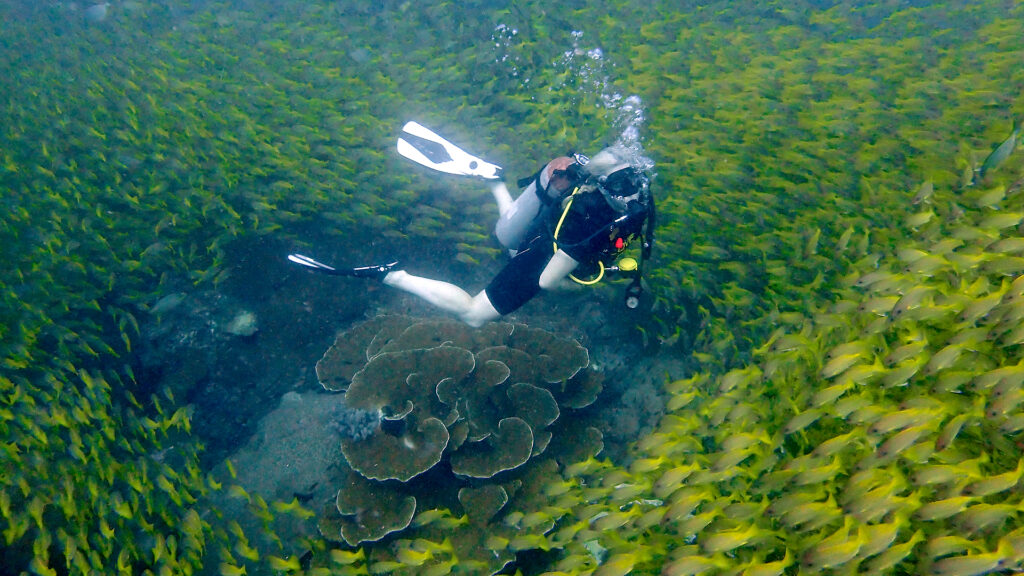 Koh Phi Phi Islands
There are actually 6 islands that are considered as "The Phi Phi Islands", however the 3 southern islands are dived the most often: Koh Bida Nok, Koh Bida Nai and Koh Phi Phi Ley ("Koh" means "island"). On special days, the big and very good site of Hin Bida may be dived, but it's a little further east of the main islands.

Phi Phi Ley is the 2nd largest island and has multiple sites for diving, the dive sites on the west perhaps considered to be better: Turtle Rock/Bay (for Hawksbill Turtles and nice macro), Palong Wall (for Blacktip Reef Sharks) and Mushroom Rock (for soft corals, sharks and turtles). There are also some fabulous cavern and caves to explore for those with the right certification/experience.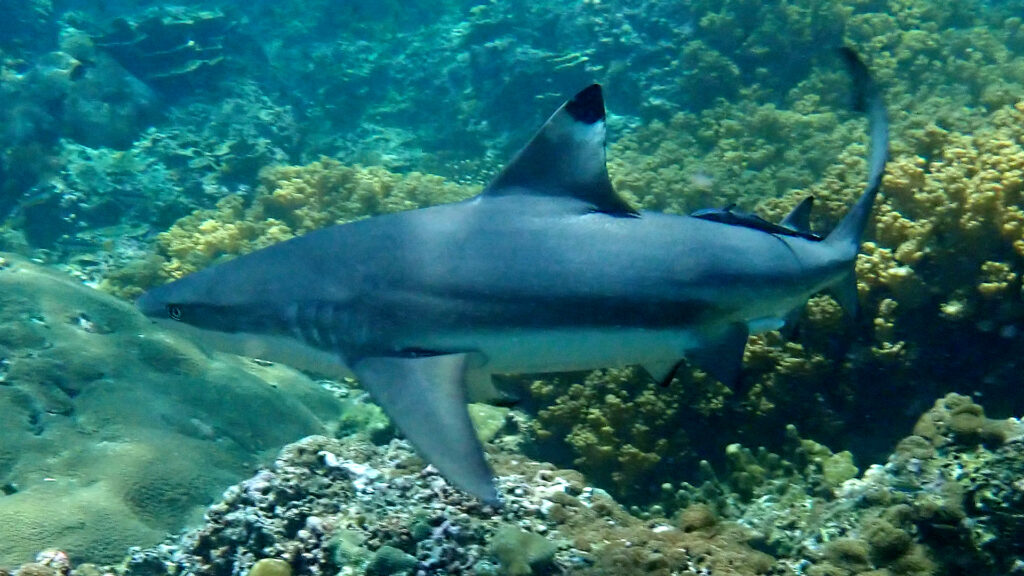 Koh Bida Nok & Nai
Koh Bida Nok is arguably one of Phi Phi's best dives! It's big enough to for 2 dives and its combination of hard coral and boulder reefs, with a soft coral wall, overhangs and pinnacles, can provide Blacktip Reef Sharks, huge schools of fish, and sometimes the odd turtle amongst all multitude of other marine life. Sometimes it also has visits from Whale Sharks!

Koh Bida Nai is a slightly smaller island, just north of Bida Nok. It offers similar diving to Koh Bida Nok, just on a smaller scale. However, there are some types of marine life here that Bida Nok either doesn't have (yet) or is more common, such as Tomato Clown Fish and Bent Stick Pipefish.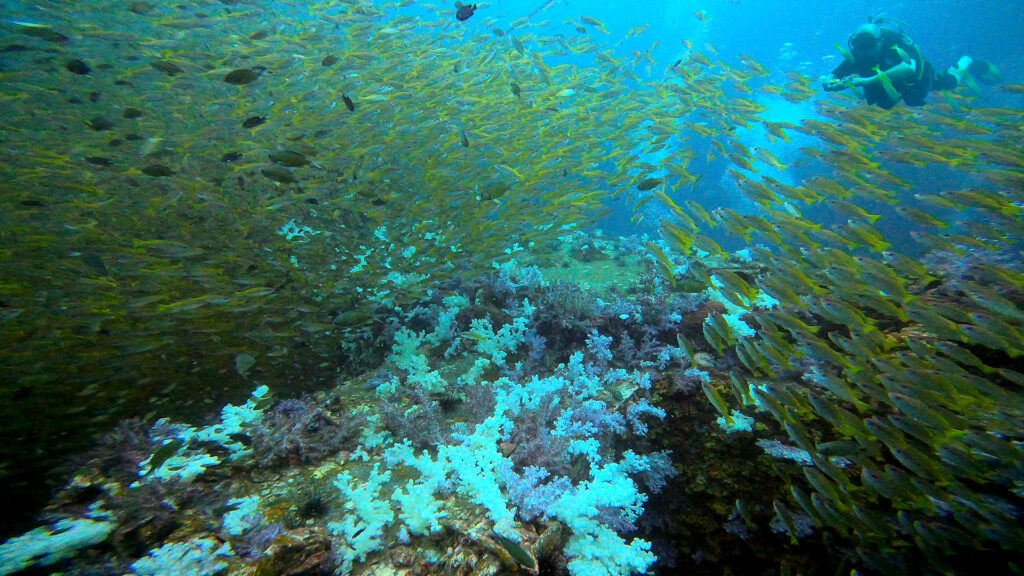 King Cruiser Wreck
The King Cruiser sank in 1997, after hitting the dive site of Anemone Reef. Fortunately, everyone survived is slow sinking and it's now one of Phuket's best dive sites for advanced or experienced divers.

75m long, 25m wide, 18m at its shallowest and 32m at its deepest, it's a fabulous wreck, with lots of colorful soft coral, huge schools of fish and macro-life. Often a great experience during an Advanced Open Water course!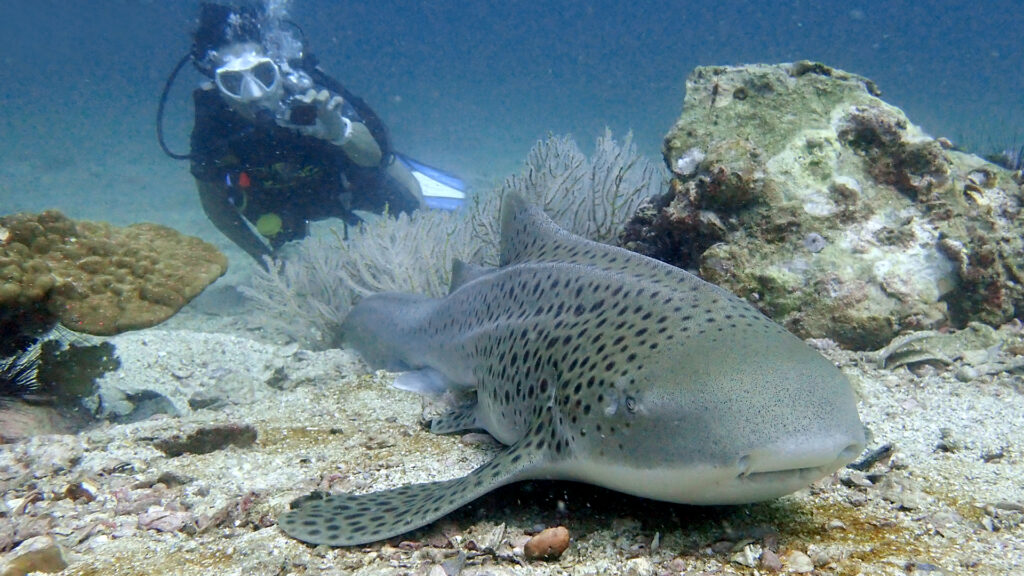 Shark Point
Shark Point (or Hin Musang as it's know locally), is named as such for the Zebra Sharks that may be seen here. With or without the sharks, it's all-round one of the best sites for diving from Phuket!

It's a big dive site, consisting of 3 main pinnacles, and you'd likely need a few dives to cover most of it. The pinnacles are covered in a multitude of soft and hard corals, Barrel Sponges and Gorgonian Sea-fans, with a great variety of marine life. Amazing on the right day!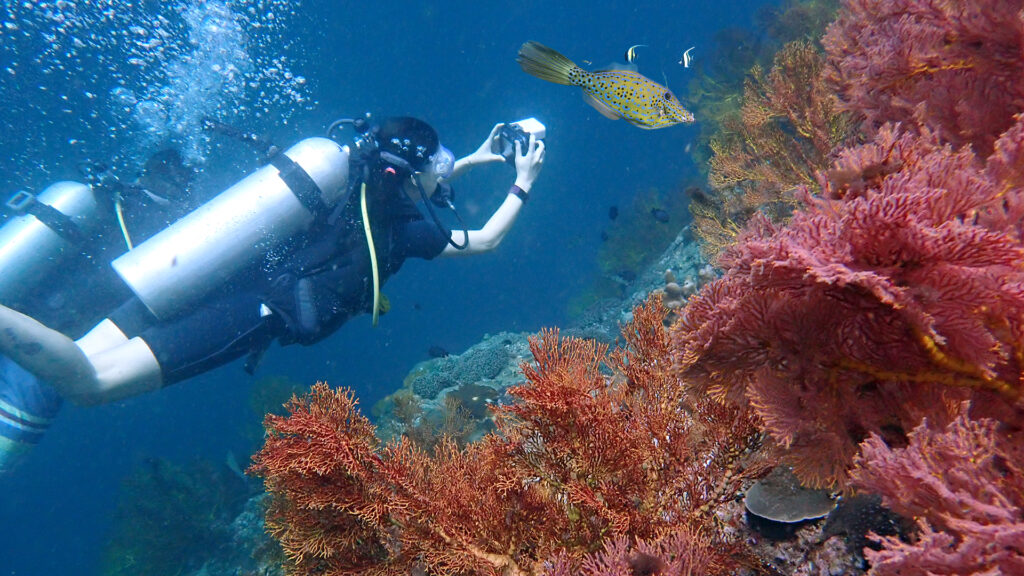 Koh Doc Mai
Koh Doc Mai is a wonderful wall dive, adding even more variety to a great diving day trip!

Certainly it has to be one of the best dive sites for macro marine-life and there's a lot of color provided by sea-fans in the shallows. There are Moray Eels, big shoals of fish and often schools of Chevron and Yellow-tail Barracuda, but perhaps the most interesting things to look for are the Grey Bamboo Sharks, Tiger-Tail Seahorses and even the odd turtle!
Included In Our Diving Prices:
– Transfers to/from main routes *
– Water, soft drinks, tea & coffee
– Breakfast, lunch, fruit & snacks
– Full set of quality scuba gear
– Course certifications included
– Use of computer for courses
– Diving insurance
Other Useful Things To Know:
– Take your towel and swimwear
– Boats depart Chalong Pier 8am
– Racha Noi/Yai return 5:30pm
– Phi Phi return 7pm
– King Cruiser return 5pm
(Times are approximate and
return times based on 3 dives)
Approximate pick up times:
– Kamala 6:50-7:00am
– Patong 7:00-7:15am
– Karon 7:30am
– Kata 7:40am
– Rawai 7:30am
– Chalong 7:50am
Pick up from your hotel lobby
* Transfers to/from main routes:
Transfers on route from Kamala, Patong, Karon, Kata, Rawai and Chalong are included, but please be on time. There may be an extra charge from elsewhere, such as: Phuket Town, Nai Harn etc. Contact us if in doubt!
Alternative Diving From Phuket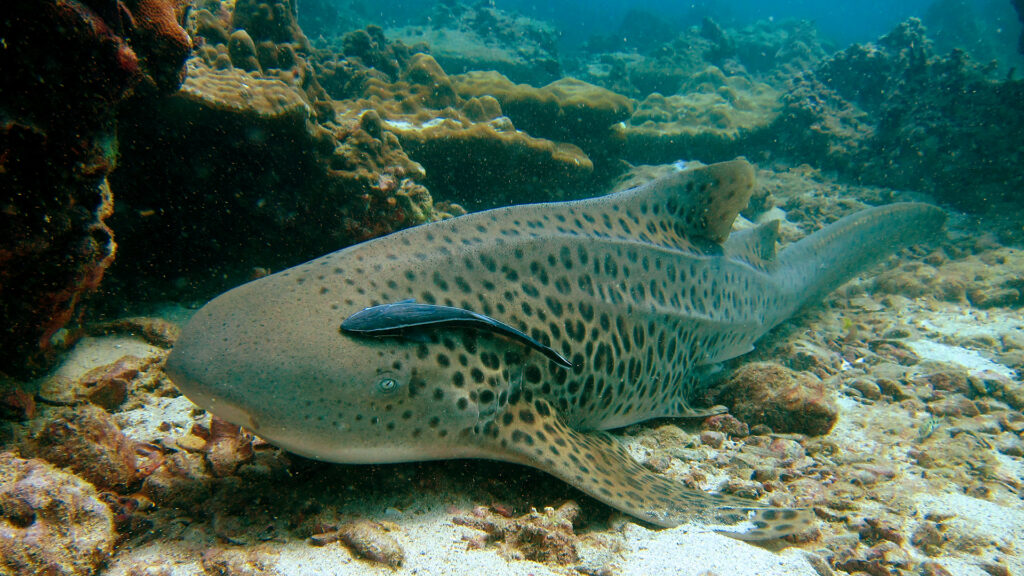 Diving Tour Changes
Like everywhere else in the world, sometimes the weather changes and therefore dive sites may occasionally change to get the best diving in Phuket on that day. That may mean diverting to Racha Yai or Koh Maithon. Although different to the original destination, these can offer great diving too!
You can check the forecast here.
Reasons to shore dive Phuket
If you don't have a full day, get sea-sick easily, want a night dive, or just an easy day dive, then shore diving from Phuket's beautiful beaches is for you! And though it maybe best to dive during the high-season, with our dive center at the private Paradise Beach, we can shore dive almost the whole year round!

And you may just tick off some critters from your bucket list!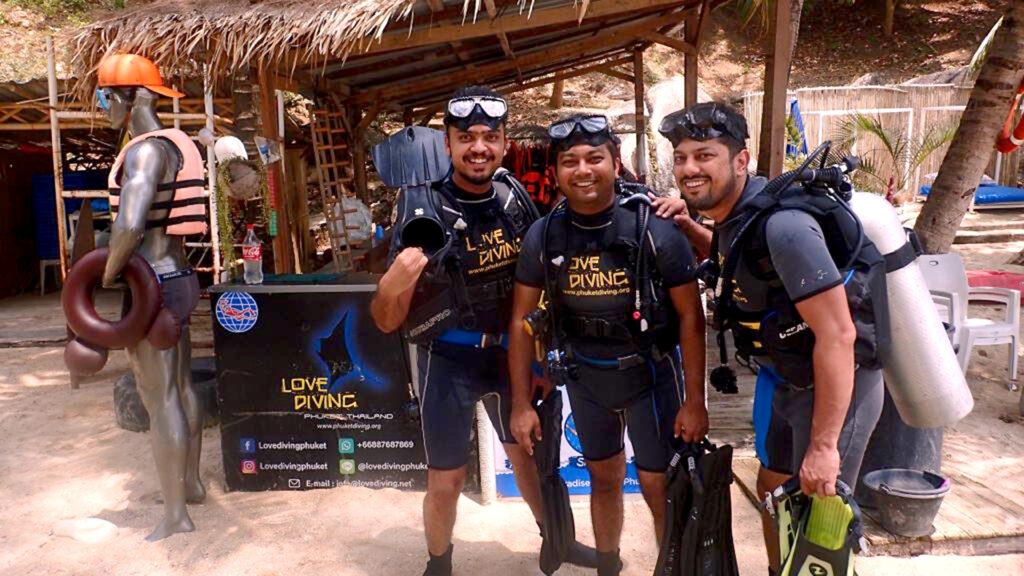 Shore diving from Phuket's beaches
Although, to get the most out of a shore dive, it's best to check the tides, currents, weather relative to the location (just as with any diving), shore diving can cater for just about all levels of diver. And believe it or not, shore diving in Phuket can offer some rare and very special marine-life that you may not even find on day trip dives!
Night diving from Phuket's beaches
Apart from on Thailand's Liveaboards, night diving here is rarely done by boat. But night diving from Phuket's beaches, especially in high-season, is both easy and can be a whole new experience!

On a night dive, not only can the normal sea creatures behave and seem quite different, but the colours just seem to 'pop' much more in front of the dive lights. And just as there can be new things to see on a shore dive, it's even more the case on a night dive, when all sorts of weird & wonderful critters can creep out from the shore's reefs, rocks and sands.
Is shore diving better?
So should you go shore diving instead of taking a day trips from Phuket? Well, if you want clear water, easy diving and different marine life to see, then dive the Racha Islands. And for big schools of fish and maybe sharks & turtles, do a diving tour to Phi Phi. Then with even more variety and colour, dives at the King Cruiser Wreck, Shark Point & Koh Doc Mai can be truly amazing!

But if you want a different Phuket diving experience and you've dove the other sites, then maybe a shore dive is the right choice for you!