The Best Phuket Diving
With our combination of low prices and top quality service, we can offer you the best diving in Phuket. But what's 'best' isn't just about the price… We tick all the boxes: Quality boat service, experienced PADI professionals, top rated equipment and world class dive sites. Read on for more information or contact us to get your Phuket diving adventures started right now!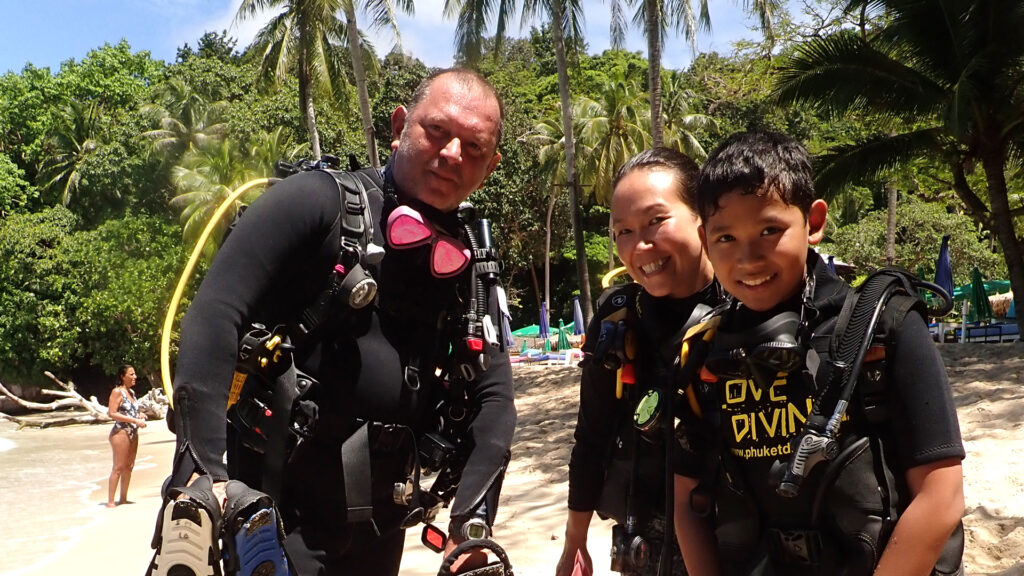 The Best Diving Service
With more than 15 years experience of running dive centers in Phuket, we've now opened another diving center near Patong at Paradise Beach. So now we can provide some of the best beach diving from Phuket, as well as top day trips to all of Phuket's best diving locations and also liveaboard rips to the North Andaman and South Andaman seas, including diving in the Similan Islands.

We use well trained and enthusiastic diving instructors and provide top quality scuba equipment during your diving tours and courses. We keep group sizes small and match diving experience and certification levels, as appropriate to the sites being dived, and diving insurance is included in the price.

We are actually PADI instructors ourselves, and have many years experience of diving in Phuket, so we know very well how to help you best. We still dive and may even be your scuba instructor for the day! And we haven't forgotten what it's like to be on holiday… We love diving Phuket! And that's the experience we want to share with you.

So that said, we really do believe we offer the best diving in Phuket. But how and where to find the best dives for you? Read on…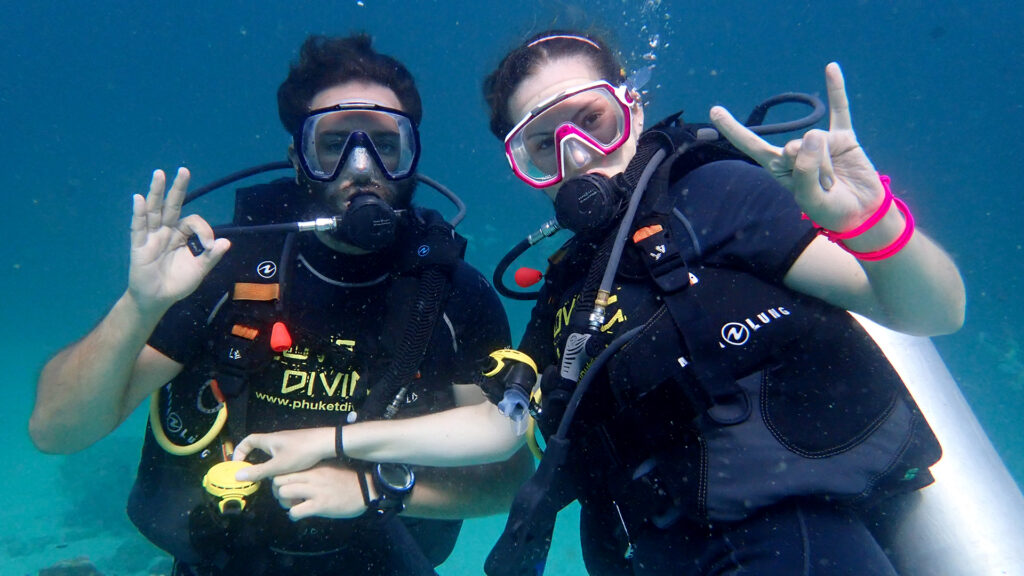 Our Phuket Dive Centers: Patong
In Bangla Road, at the heart of Patong, you'll find our main dive center. Our friendly and knowledgeable staff are always keen to help find the best diving for you. Open 12:00 – 20:00 every day.

At Love Diving, we are all scuba diving instructors and we'll use all our honest expertise in assisting with your dive tour or scuba diving course… You get first-hand accurate information from professionals who actually dive Phuket!
Our Phuket Dive Centers: Paradise
On the beautiful private Paradise Beach, we've opened up our second Phuket dive center. If you are looking for a great half-day diving experience or just want to try diving for the first time, without getting on a dive boat, then this is your best choice.

Just minutes away from Patong to experience Paradise underwater… and you don't even need to be a swimmer! It's also a great site for diver training, instead of a swimming pool.
Diving Enquiries & Booking
Booking is easy, with on-line payment options available, though you can simply pop in to our dive centers if already in Phuket. But why wait to get in touch? Get our best price for diving tours and scuba courses today!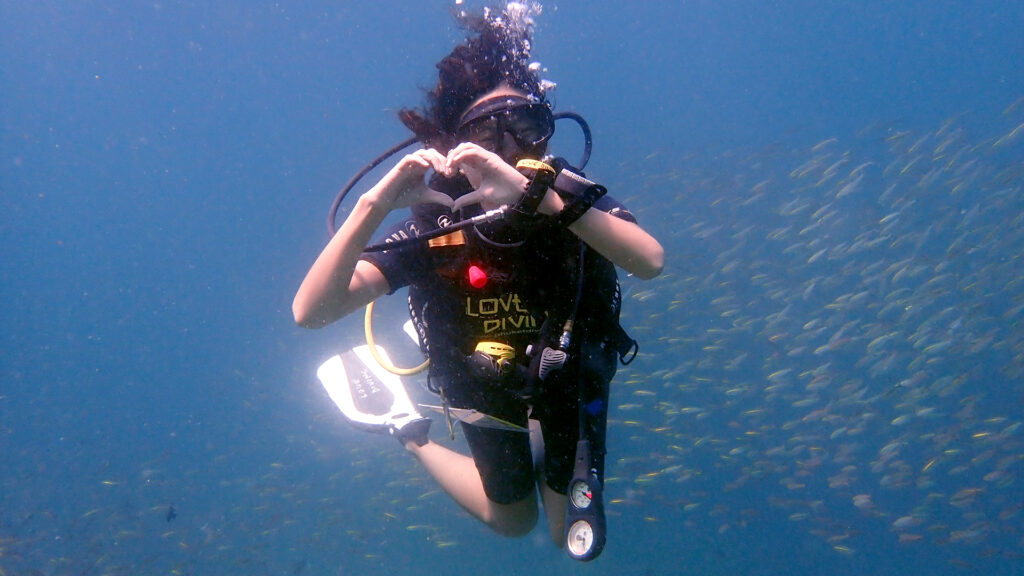 Best Diving In Phuket
Phuket is located on the west coast of Thailand, in the Andaman Sea which is part of the Indian Ocean, and therefore its dive sites have an amazing variety and abundance of marine life.

Phuket diving destinations all offer something different, so where's best really comes down to what kind of experience you want or what would you like to see?

Generally speaking, day tour diving from Phuket has three main destinations: Racha Noi and Racha Yai, the Phi Phi Islands and the cluster of the King Cruiser Wreck, Shark Point and Anemone Reef, combined with Koh Doc Mai.
Racha Noi & Racha Yai
Racha Noi and Racha Yai have mainly hard coral and boulder reefs, with an assortment of marine creatures that prefer those environments. Diving conditions tend to be easy and with good visibility.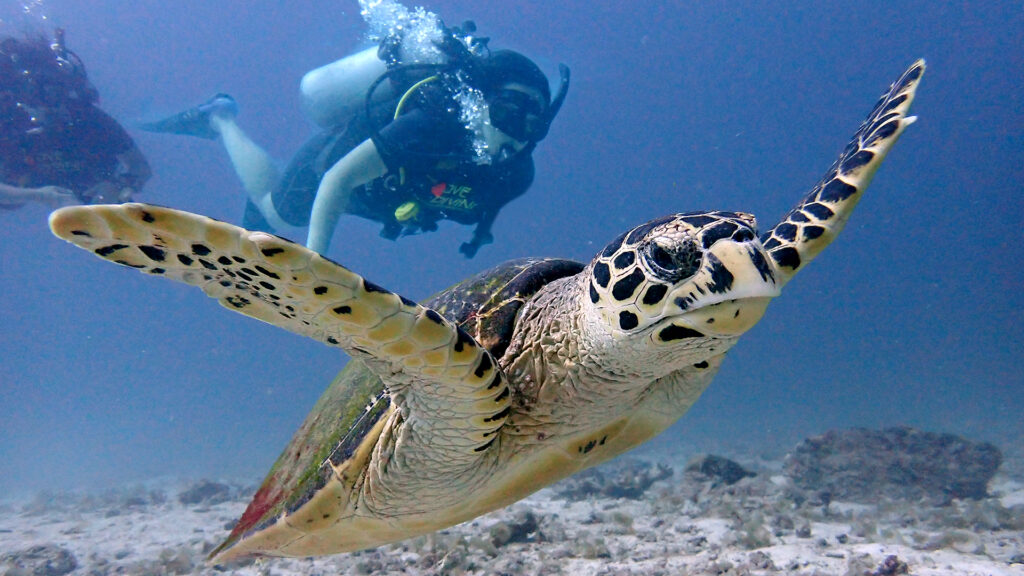 The Phi Phi Islands
The Phi Phi Islands' dive sites are much more varied, with hard corals, soft corals, wall dives and more. Some sites have lots of marine life but then visibility can sometimes be lower, though usually it's still easy diving when currents are strong elsewhere.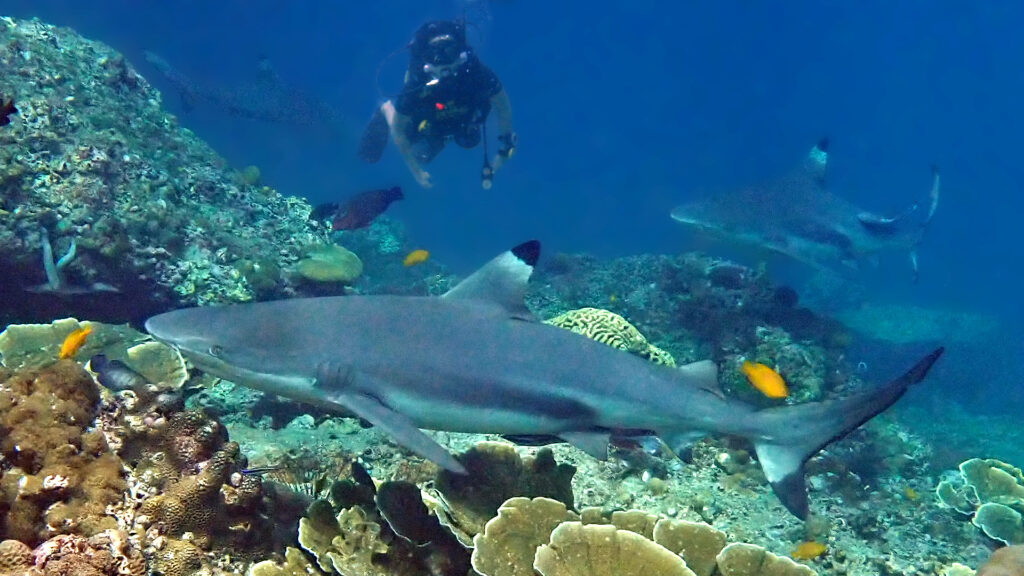 King Cruiser, Shark Point, Doc Mai…
The King Cruiser Wreck, Shark Point, Anemone Reef and Koh Doc Mai can have both good or bad visibility, and when currents are strong they can be tough (or really exciting) to dive. But they perhaps have the best variety and the most amount of marine life, more than worth trying your luck… on a good day amazing dives!
Phuket Liveaboard Diving
Liveaboard dive tours from Phuket are best done during November-April, when the Similan Isles and other North Andaman dive sites are open. There are also South Andaman dive trips… It's best to contact us early, as liveaboard trips offer access to some awesome dive sites and can be fully booked well in advance. See our Phuket Liveaboards section below…
Phuket Beach Diving
Beach diving from Phuket is usually only available in high-season (Nov-April) but now, at Paradise Reef, we can beach dive in low-season too (depending on waves from the west). This also means we can offer great night diving in easy conditions. Contact us for beach diving from Phuket...
PADI Courses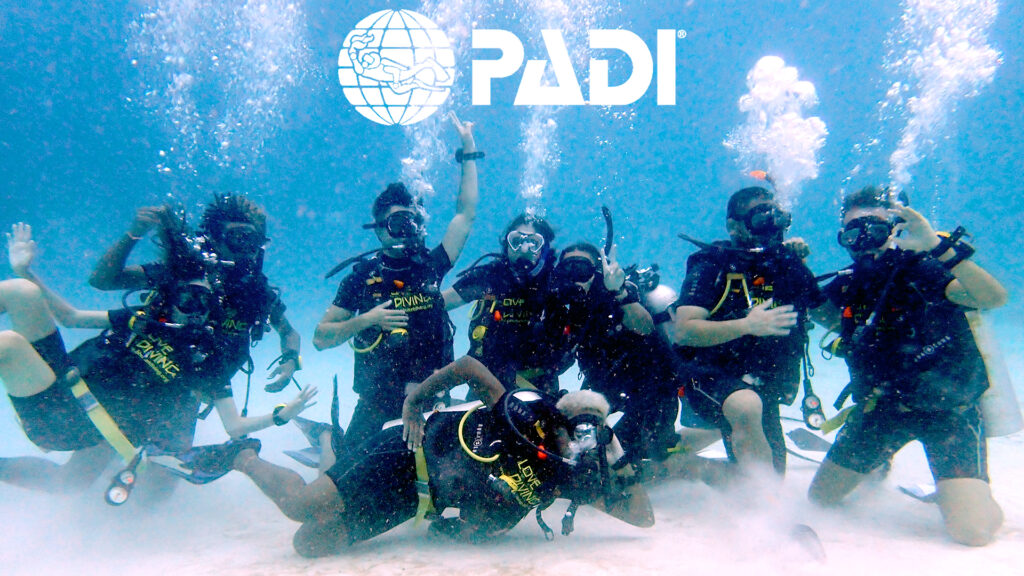 Learn to dive with us and then take it to the next level!

We offer a full range of PADI courses from Discover Scuba Diving and the PADI Open Water Course to advanced levels such as Rescue Diver, PADI Specialty certifications, technical diving and also professional levels, such as PADI Divemaster.
Phuket Diving Tours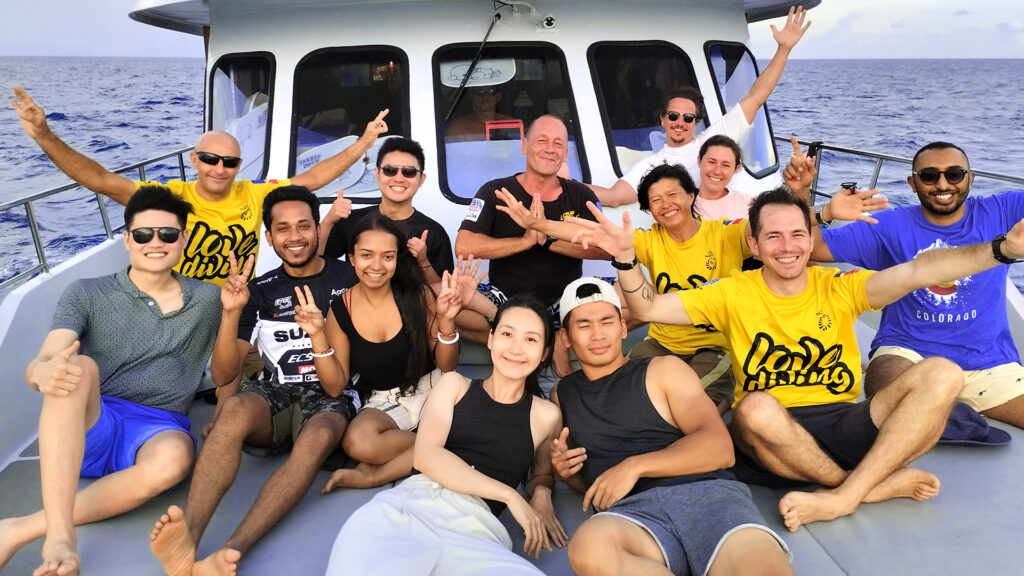 Take a diving tour to one of Phuket's top dive sites.

We offer day tour diving from Phuket with 2 or 3 dives per day, with dive gear, food and refreshments included in the price. Group sizes are small and managed by our experienced dive instructors, who'll happily show you the best that each dive site has to offer.
Liveaboard Trips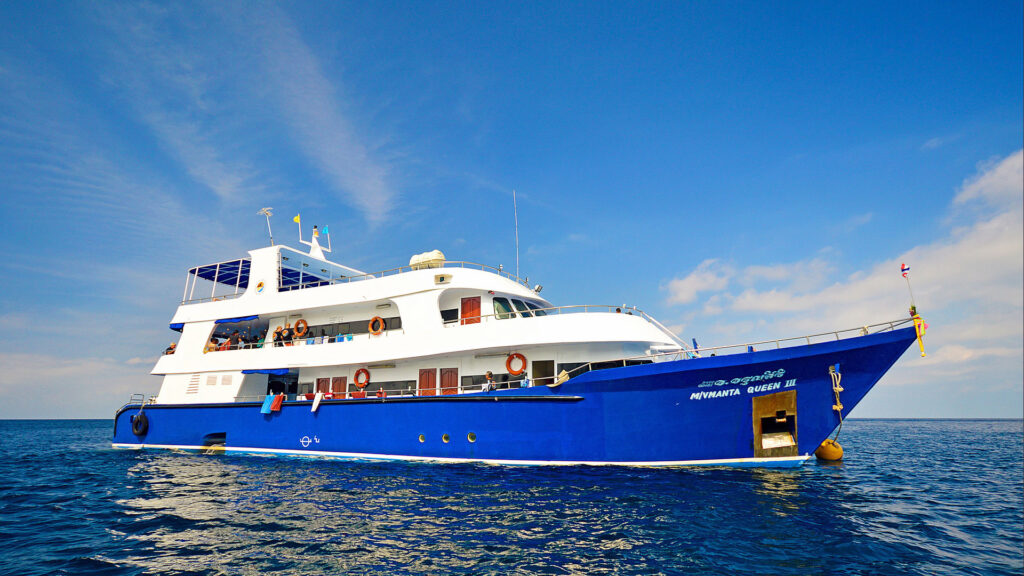 We offer fantastic liveaboards diving from Phuket.

North Andaman liveaboard tours can include diving in the Similan Islands, Koh Bon, Koh Tachai, the Surin Islands and the famous Richelieu Rock. Southern liveaboard tours can include the best Phuket sites, the Koh Haa Islands, Hin Deang and Hin Muang.